The U.S. real estate photography industry is a $261 million market. With over 5 million homes sold in 2022, alone, more real estate agents are looking to real estate photography business owners for help. According to the National Association of Realtors, the demand for real estate photography services continues to increase each year.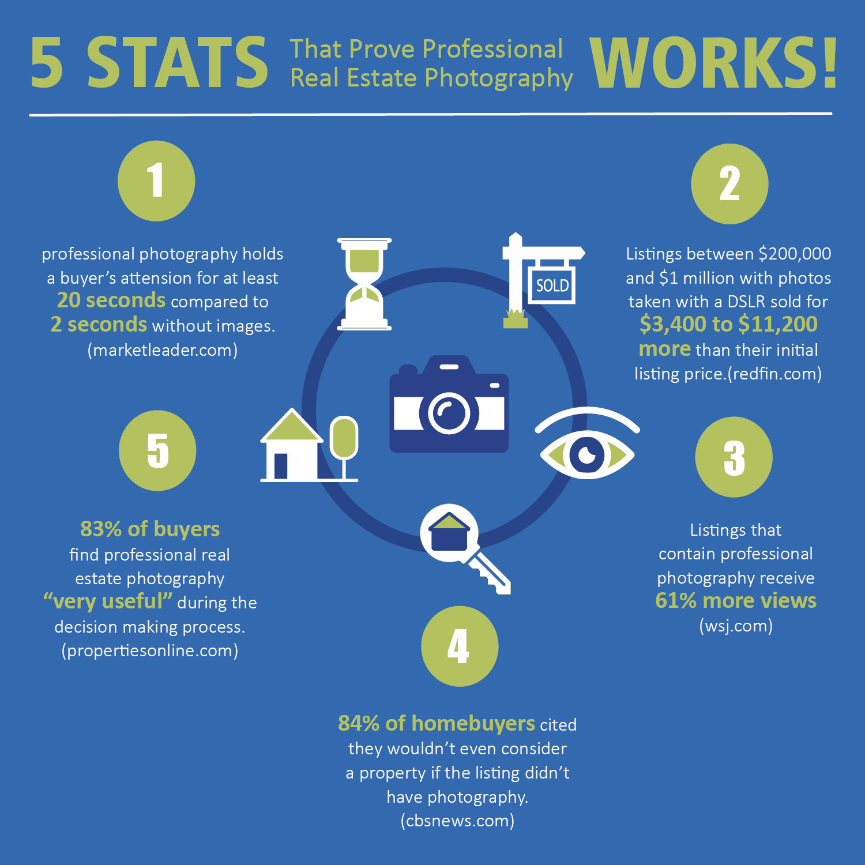 As more homebuyers begin their search online, eye-catching and professional real estate photos become crucial. This market creates a huge opportunity for aspiring photographers looking to turn their passion into a thriving business. Real estate photography allows photographers to get paid for doing what they love.
In this guide, we'll discuss how to start a real estate photography business. We'll talk about things like real estate photography pricing, the benefits of opening a business bank account, how to register your EIN, and more. Here's what you need to get ahead in the real estate photography industry.
1. Conduct Real Estate Photography Market Research
The real estate photography industry has exploded along with the rise of digital photography and online searches. Real estate photography market research gives insight into important elements of the industry. There are two types of market research to conduct, primary and secondary.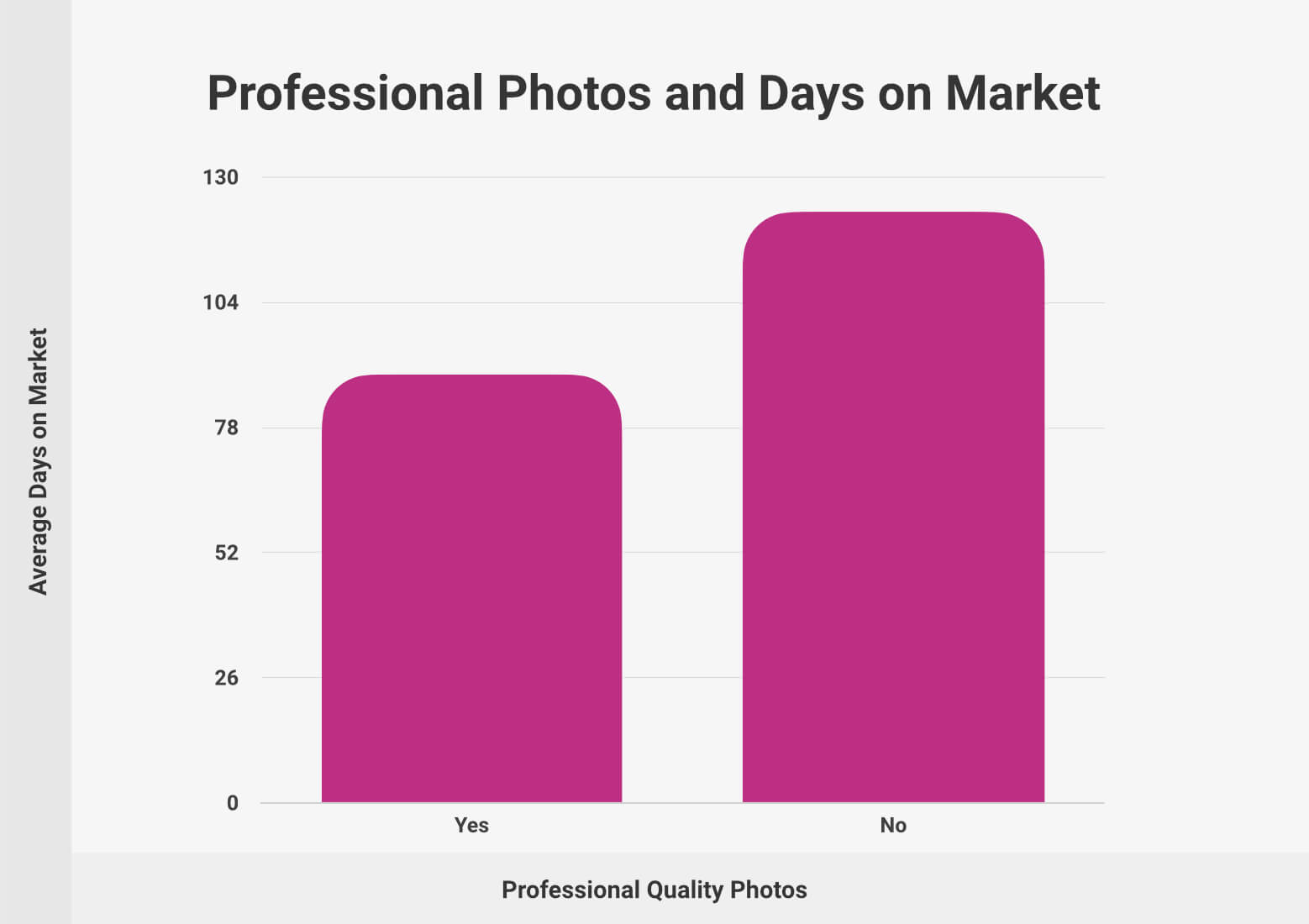 Primary market research is research you conduct yourself. For example, visiting local realtors in person to chat about photography opportunities, and creating a customer poll about services they'd like to see. Secondary market research is research performed by a third party. This readily available information comes from all different sources, including government statistics websites.
Some elements to discover with market research include:
Income
Photographers can make $150-500 per shoot, with experienced pros earning up to $1,000 for luxury home tours. Established photographers often complete 5-10 shoots per week, quickly generating over $2,500 in weekly revenue with minimal overhead costs.
Sales Influences in Local Market
Key drivers increasing demand for real estate photography services include:
Online browsing is a primary method of home search. Eye-catching photos are essential for listings to stand out.
Increased use of virtual tours due to COVID-19. 3D tours allow buyers to digitally view homes.
Real estate sites like Zillow and Realtor.com display high-res photos. Curation of listing photos can boost exposure.
Rise of social media driving demand for quality visual content. Good photos help listings go viral.
Renovations and home staging boosting marketability. Photographers can help showcase improvements.
Industry Challenges
Seasonal dips in home sales may slow the real estate photography business during winter months. The market is also saturated with amateurs, creating a competitive landscape for professionals. Even so, the broad market opportunity and evergreen demand for real estate photos make this a promising niche.
2. Analyze the Competition
To succeed, new real estate photography business owners need to research the local competition. Competitors tell you a lot about how to run your business. Everything from prices to charges to services offered can be influenced by local competitors.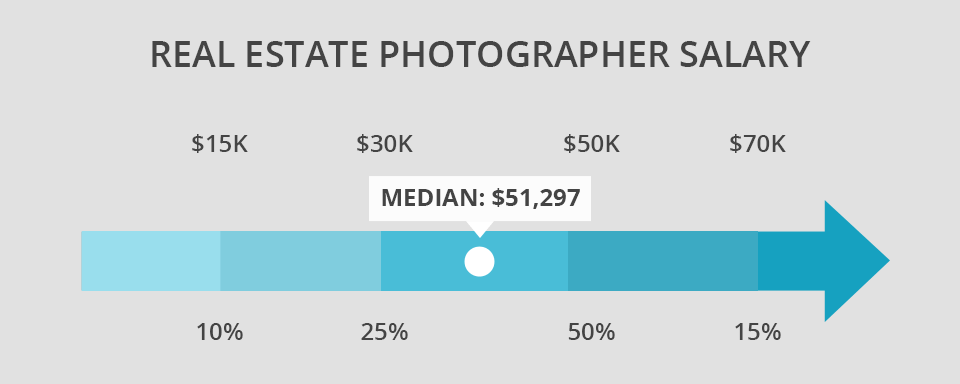 A few key areas to analyze during competitive research:
Business Directories
Search online directories to find active real estate photography business owners servicing your area. Make a list of top providers and visit their websites. Analyze services, pricing, and branding. What sets successful competitors apart?
Online Presence
Review online profiles to see their social media presence. Assess followers, engagement, and feedback. This indicates their digital marketing skill. Check for active Google My Business and Yelp pages with lots of reviews.
Image quality
Critically examine competitor photo galleries and listings. How is photo composition, lighting, and editing? What techniques do they use? What works well that you could emulate?
Pricing
Average pricing is $150 to 200 per shoot but ranges from $99 budget shoots up to $400 for luxury properties. Check competitors' price lists. See what premium services command higher prices.
Offerings
Many specialize in photography only, but some offer additional services like 3D home scans, video, drones, and staging assistance. Determine what extra services competitors provide that generate additional revenue streams.
3. Costs to Start a Real Estate Photography Business
Starting a real estate photography business does not require a huge upfront investment, especially for budding photographers who already own some photography gear.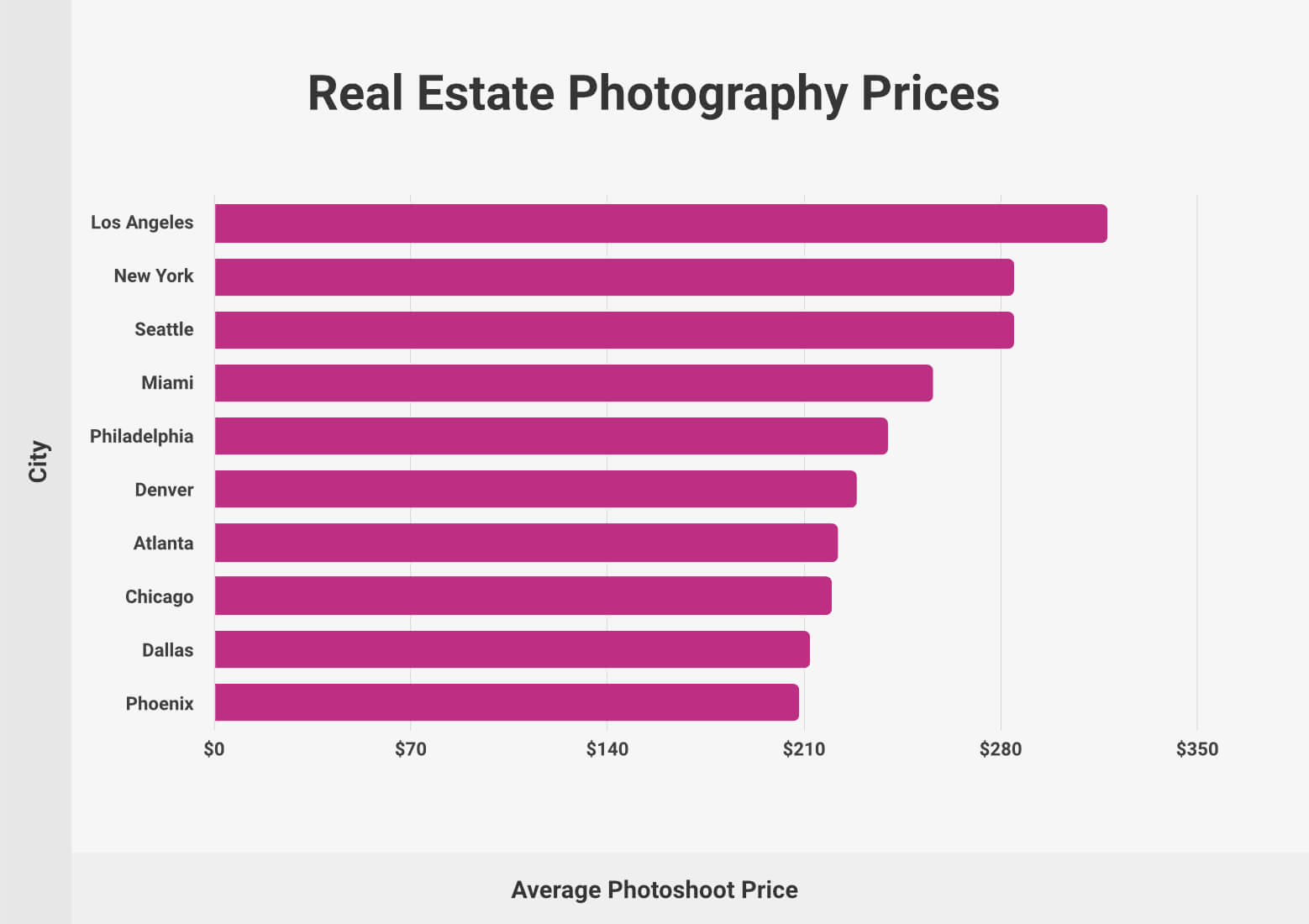 Cost analysis and budget planning require professional photographers to look at start-up and ongoing costs. Let's break these down for a closer look at where the money goes when photographing the real estate industry.
Start-Up Costs
The main start-up costs involve purchasing key equipment, establishing your business identity, obtaining licenses/insurance, and covering initial operating expenses as you ramp up.
Camera and Lenses $2000-5000: A quality DSLR camera and a variety of lenses suited for real estate work are essential. Expect to invest $2000-5000 for starter equipment, and more as you grow.
Lighting Gear $500-1500: Pro lighting kits with strobes, stands, and modifiers help achieve optimal interior shots.
Audio Equipment $300-500: External mic setups improve audio quality if you offer video services. Lav mics ($200-300) or shotgun mics ($100-500) are top choices.
Drone $1000-2500: Many real estate photography business owners offer aerial drone photography and video.
Computer $1000-2000: A high-end PC or Mac is needed for photo editing. Laptops offer portability.
Editing Software $10-20/month: Programs like Lightroom and Photoshop help perfect images.
Website and Hosting $250-500: A website showcasing your brand and portfolio is essential. Budget $250-500 for site design and 1-2 years of hosting.
Branding $500-1,500: Logo design, business cards, templates, etc. establish your brand.
Insurance $400-800/year: General liability insurance protects from property damage claims.
Licenses, Permits $200-500: Check state and local requirements. Business licenses typically cost under $100. Sales tax permits free-$100.
Initial Travel $500-1,000: Plan gas/mileage costs as you travel for initial client shoots before recurring revenue.
Misc. Office Supplies $300-500: Printers, paper, folders, pens, and basic office supplies will be needed.
Most newcomers to the real estate photography market are looking at total start-up costs of $10,000 to $20,000.
Ongoing Costs
As your business grows, you'll incur regular monthly and annual costs to cover ongoing operations and expansion. Typical ongoing costs include:
Insurance – $400-800/year Continue paying annual premiums for business insurance policies.
Accounting $2000-5000/year: Hire an accountant for tax prep and financial statements.
Legal $500-2000/year: Legal counsel may be needed for contracts and incorporation.
Equipment Upgrades $2000-5000/year: Upgrade camera/lenses and lighting gear as business expands.
Website Hosting $500/year: Annual fee for managed hosting of your photography website.
Continuing Education $500-2000/year: Participate in workshops and classes to hone skills.
Travel $2000-5000/year: Ongoing gas/mileage costs for client shoots. Estimate based on service area and frequency.
Marketing $1000-5000/year: Paid ads, content creation, and promotions to attract new clients. Variable based on strategy.
Software/Memberships $500-1500/year: Adobe subscription, professional organizations, CRM, or invoicing apps.
Misc. Supplies $500-1000/year: Miscellaneous supplies, album prints, mailers, etc.
During the first three years in real estate photography, expect ongoing costs of $10,000 to $20,000 per year.
4. Form a Legal Business Entity
When starting a real estate photography venture, a big decision is the legal structure. This determines liability protections, taxes, and ease of expansion. The main options are sole proprietorship, partnership, corporation, or limited liability company (LLC).
Sole Proprietorship
A sole proprietorship is the simplest structure. You operate as an individual owner reporting income on personal tax returns.
Pros:
Easy and inexpensive to form. Just start doing business.
Total control over decisions.
Taxed only once on income.
Cons:
The owner has unlimited personal liability for debts and lawsuits. Risky for photographers to work inside client homes.
Limits business continuity in case of owner illness/departure.
Difficult to raise investment capital for growth.
Partnership
A partnership involves two or more co-owners sharing management and liability. Income taxes pass through to partners. A partnership doesn't differentiate professional or personal assets.
Pros:
Relatively easy to establish with a partnership agreement.
Owners combine skills and investment.
Pass-through tax treatment.
Cons:
Joint and several liability – partners liable for each other's actions.
Shared profits dilute incentives.
Disagreements can dissolve the partnership.
Limited Liability Company (LLC)
An LLC offers liability protection with pass-through taxation. Owners are "members" rather than shareholders. An LLC protects your personal assets, keeping them separate from professional assets.
Pros:
Limited liability for owners. Saves real estate photography professionals from personal risk.
Pass-through taxation. No double taxation on income.
Ownership flexibility. Easy to add members.
Cons:
The more complex formation process and state fees.
Must draft an operating agreement.
Self-employment taxes unless structured as S-corp.
Corporation
A corporation is a distinct legal entity owned by shareholders. Profits are taxed at the corporate level and for shareholders.
Pros:
Limited liability for owners.
Can raise capital through the sale of stock.
Transferable ownership through shares.
Cons:
Most complex and expensive to establish with legal fees.
Double taxation on profits.
Extensive record keeping and reporting.
For real estate photography professionals, an LLC provides the best liability protection and tax treatment. LLC's limited paperwork also helps keep formation costs low during a lean startup phase. Talk to an attorney and accountant to decide what is optimal for your state and situation.
5. Register Your Business For Taxes
An important legal step for real estate photography businesses is obtaining an Employer Identification Number (EIN) from the IRS.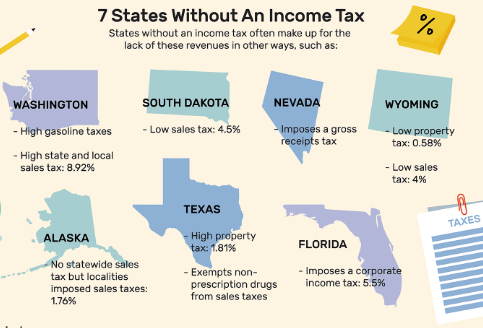 This establishes your business identity for tax purposes.
What is an EIN?
An EIN is a unique 9-digit number that identifies your business for tax and reporting purposes. It is essentially the business equivalent of a social security number. An EIN is required if you plan to hire employees, open a business bank account, or form a legal entity like an LLC.
Applying For an EIN
Obtaining an EIN is free and easy to do online. Simply:
Go to IRS.gov
Answer questions about your business structure and details.
Provide owner information such as name, SSN, and address.
Review the information entered and submit the EIN application.
Once submitted, you will immediately receive a confirmation notice with your new EIN. The whole process typically takes under 10 minutes.
EINs help legitimize your real estate photography business. They're necessary for opening bank accounts, applying for financing, hiring employees, and filing taxes.
Sales Tax Requirements
Along with an EIN, most states require real estate photography businesses to register for sales tax collection. This involves obtaining a state sales permit/license through your state revenue or taxation department.
Costs for sales tax registration vary by state but are typically under $100. In some states, it may be free. This authorizes you to collect state sales tax on your photography services. You will then need to file regular sales tax returns reporting tax collected.
6. Setup Your Accounting
Proper accounting is crucial for professional photographers to track finances, maximize deductions, and avoid IRS issues. Implementing key accounting practices early on will serve your business well as it grows.
Get Accounting Software
Accounting software like QuickBooks is invaluable for photographers to automate bookkeeping. It seamlessly syncs with bank/credit card accounts to log transactions, generate invoices, track payments, and categorize expenses. You can even use it to invoice real estate agents.
QuickBooks eliminates manual data entry and provides real-time financial insights. Software costs $10-50/month but pays for itself in time and accuracy.
Hire an Accountant
The software handles day-to-day tasks, but most small businesses still need an accountant for tax prep and advisory services. A qualified accountant can set up your books, prepare financial statements, reconcile accounts, maximize write-offs, and file annual tax returns. Expect to invest around $2000-$5000 annually.
For basic year-end tax prep, costs are closer to $500-$1500. This guidance can save thousands in taxes and avoids IRS issues that could harm your business.
Separate Business and Personal Finances
Even if you operate as a sole proprietorship, keep business and personal finances completely separate. Open a dedicated business bank account to keep funds organized.
Never co-mingle personal and business transactions. This simplifies record keeping and prevents tax issues or disputes if audited. Keeping accurate books also makes annual filings easier.
Obtain a Business Credit Card
A business credit card earns rewards on purchases while separating business expenses from personal finances. Business cards don't use your credit. Issuers determine credit limits based on business revenue and assets. Carrying a balance also helps establish a business credit history.
7. Obtain Licenses and Permits
Launching a real estate photography venture takes more than camera skills and a keen eye. You must ensure all required licenses and permits are in place before photographing your first listing. check federal licensure requirements through the U.S. Small Business Administration.
At a minimum, all professional photographers need a general business license. This gives you legal permission to provide services in exchange for payment. Requirements vary locally, but often just entail naming your business, choosing an entity type, and paying registration fees.
You can check local permit and license requirements through the SBA's local search tool.
Many photographers choose to obtain a real estate trade license. Though not always mandatory, this demonstrates you work professionally with real estate clients. License fees are generally under $100 per year.
If planning to incorporate real estate drone photography, remote pilot certification from the FAA is essential. This ensures you follow all laws and best practices when operating unmanned aircraft. Certification involves passing an aeronautical exam.
8. Get Business Insurance
Operating any business carries risk. Business insurance protects you, your business assets, and your employees. For real estate photographers, choose a policy that covers gear theft, property damage, and liability claims.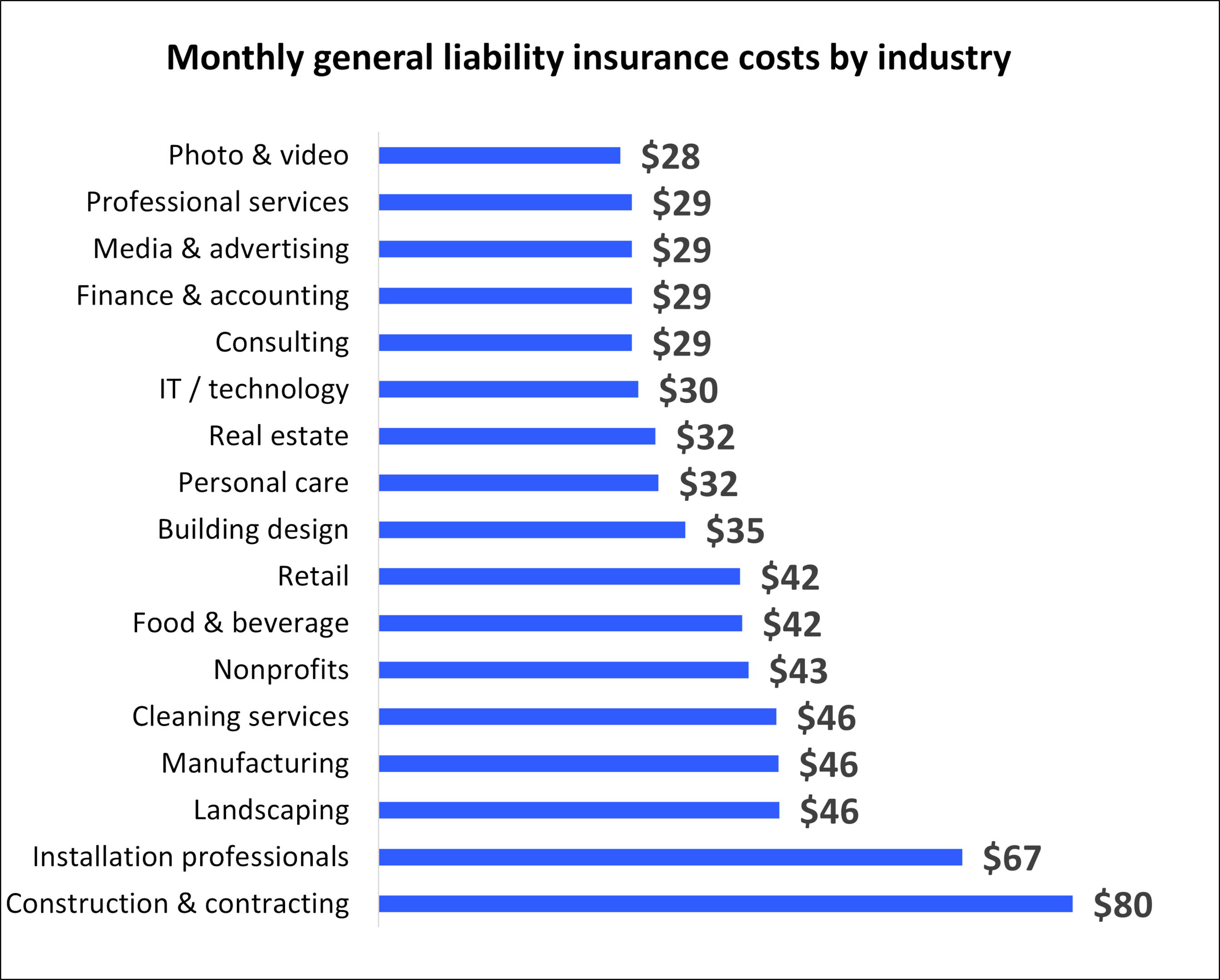 General liability insurance is a good place to start. It covers injury, damage, or other losses caused by you, your equipment, or your photography business during a shoot. For instance, you accidentally knock over and shatter an antique floor lamp. Without liability coverage, you'd pay all legal claims and bills out of pocket.
Equipment insurance is another helpful product. It protects your costly cameras, lenses, lighting, and other gear from theft or damage. With high replacement costs, even one stolen camera could sink you. Get covered for the full value of all your equipment.
You'll also need commercial auto insurance if you use a commercial vehicle to travel between shoot locations. Personal policies normally exclude business use, leaving you uninsured in an at-fault accident. Don't take the risk.
Start by requesting quotes from photography-focused agents like Hill & Usher. Provide your specific gear value, projected payroll, and expected revenue. Expect the process to take 2 to 4 weeks. Never operate or market services before confirming active policies.
9. Create an Office Space
An office provides a real estate photography business with a dedicated workspace. Use your office for administrative tasks, storage, meetings, and more. While not mandatory, having a professional home base adds legitimacy and convenience versus working 100% remotely.
Here are some options for your real estate photography business office:
Home Office
A home office is the most affordable option, with no rent beyond existing housing costs. It allows close equipment access and flexible hours. Zoning laws may prohibit business activity without permits. Expect to invest $500 to 2,000 in furnishing a dedicated home workspace.
Coworking Office
Coworking spaces like WeWork provide desk rentals and office infrastructure for freelancers and small teams. For $200 to 500 monthly, you gain amenities like conference rooms, printing, events, and lounging space. This facilitates client meetings in a professional environment. The creative community can also spark inspiration and referrals.
Retail Office
For product shoots, retail space may suit real estate photographers. Short-term pop-up rentals in furniture stores, boutiques, or home goods stores run $2,000 to 5,000 monthly. You may even want to partner with real estate agencies and share a space.
Commercial Office
For long-term stability with maximum professionalism, a multi-year commercial office lease is appealing. For a small real estate photography business, it might not be feasible. Commercial offices are expensive and come with lengthy contract terms.
A small real estate photography business is best in a home or coworking office space.
10. Source Your Equipment
Launching a real estate photography venture requires high-quality gear. Costs add up quickly, and savvy entrepreneurs should source equipment wisely. There are a few ways to obtain the real estate photography equipment you need, including:
Buy New
Buying new offers fresh new products with full warranties and a low risk of breakage. Sites like B&H Photo regularly offer 5% to 15% instant savings on camera bodies, lenses, lighting, and accessories.
Avoid outdated gear by purchasing the latest models from authorized sellers offering manufacturer warranties. Expect to invest $3,000 to $5,000 minimally.
Buy Used
Buying used through eBay, Facebook Marketplace, and Craigslist slashes costs by 40% to 60%. Vet sellers thoroughly, inspect equipment in person, and test functioning before purchasing.
Negotiate bundled deals on bodies, lenses, filters, bags, and lighting kits. Be wary of excessive wear and outdated tech. Budget $1,500-$2,500 for solid used setups.
Rentals
Rentals from national chains like LensRentals provide flexibility if certain jobs require niche equipment. For $100 to $250 weekly, you gain access to the latest cameras, lenses, flashes, and accessories without high upfront costs. Just ensure rental damage insurance is included.
Leasing
Leasing business equipment through companies like Vytal allows the use of cutting-edge gear for a low monthly fee. While lease terms run 3 to 5 years, upgrades are included to swap out models and avoid obsolescence. Expect lease rates around $ 250 to $500 monthly depending on equipment levels.
11. Establish Your Brand Assets
Creating a strong brand identity helps real estate photography ventures stand out. A polished, professional brand inspires trust in potential clients and distinguishes you from competitors. Let's explore key assets to implement when launching your brand.
Some ways to market your real estate photography business include:
A Business Phone Line
Start by purchasing a unique business phone number through a provider like RingCentral. Calls instantly ring on your smartphone, with options like toll-free numbers, voicemail, and tracking analytics. This conveys legitimacy versus using a personal number and builds credibility with clients.
Business Logo
Design a sleek logo and support brand assets with a service like Looka. Consider an abstract mark incorporating camera and housing imagery. Complementary designs like business cards, websites, and presentation templates will reinforce brand recognition.
Business Cards
Don't forget essentials like business cards from Vistaprint. Distribute them at networking events, open houses, and client consultations. Cards professionally convey your contact information and website. Opt for quality cardstock and vibrant, on-brand designs.
Domain Name
Buying your custom domain provides an ideal website address that cements your brand identity. Use best practices like choosing a .com over alternatives and keeping the name short and memorable. Work with domain registrars like Namecheap for access to millions of domain options.
Design a Website
Building a website gives potential clients 24/7 access to galleries, services, and credentials. Use DIY website builders like Wix for drag-and-drop simplicity. Or, hire a web developer on freelance sites like Fiverr for a custom-coded site.
Signage
Signage and vehicle wraps promote brand visibility for real estate shoots and appointments. Again, Vistaprint offers banners, posters, yard signs, and graphics with bold designs. Place signs strategically during shoots to get noticed.
12. Join Associations and Groups
Beyond technical skills, succeeding as a real estate photographer requires building a strong professional network. Local groups, associations, and online communities provide invaluable resources. You can even tap into real estate agencies and their associations for networking purposes.
Some major associations in the real estate photography business include Real Estate Photographers of America and the Association of Real Estate Photographers. Some other networking avenues to explore, include:
Local Associations
Joining local real estate photography associations connects you with others in your metro area facing similar challenges. For instance, the Real Estate Photographers Association, mentioned above, unites photographers across America through networking events and an online member forum. Annual dues provide resources and camaraderie.
Local Meetups
Attend relevant meetups and trade shows for face-to-face networking with potential mentors, clients, and partners. Sites like Meetup make it easy to find regular photo walk events, seminars, conferences, and more nearby. Bring business cards and actively connect with attendees.
Facebook Groups
Don't overlook online communities. Facebook groups like Photography for Real Estate, Real Estate Photography, and Real Estate Photography Beginners to Advanced offer advice and inspiration from thousands of global members. Share work and absorb insights from top photographers.
13. How to Market a Real Estate Photography Business
Marketing is vital to attract clients and fuel growth. Strategic promotion builds awareness, generates leads, and helps independent photographers fill their shoot calendars. Let's explore both digital and traditional tactics.
Friends and Family
Tap your existing network for warm referrals. Offer discounts to contacts in exchange for reviews and word-of-mouth endorsements. Satisfied clients are powerful marketing allies. Send a personalized email after each shoot thanking them and inviting referrals.
Digital Marketing
97% of consumers buying new homes, search online during the house hunting process. For digital promotion, focus on channels frequented by agents, brokers, stagers, and related real estate pros. Here are some tips to amp up your digital game:
Run Google Ads campaigns targeting localized keywords like "real estate photographer" and "architecture photographer" to appear in searches.
Build an active presence on Instagram and Facebook to showcase work. Utilize targeted post-boosting and lead-generation ads.
Start a YouTube channel creating behind-the-scenes videos and real estate photo tips. Optimize content for search.
Guest post on real estate and photography blogs to gain backlinks, exposure, and fans.
Claim and optimize free business listings on Google, Facebook, and relevant directories.
Send periodic email newsletters with new work samples, special offers, and industry tips.
Traditional Marketing
For traditional tactics, prioritize channels viewed by real estate agents. Traditional marketing is tangible. It can't get stuck in a junk filter or deleted at the click of a button. Here are some ways to traditionally market your photography business:
Mail promotional postcards and brochures to agents and brokerages introducing your services. Follow up with calls.
Advertise in local real estate magazines, industry trade journals, and directories. Target publications agents read.
Sponsor or speak at in-person real estate networking events to meet potential referral partners face-to-face.
Run radio ads on local stations during drive times when agents are listening.
Provide free headshots at conferences or brokerage offices to introduce your services.
Print flyers and drop them off at real estate offices to have handy when agents need photography.
14. Focus on the Customer
Any real estate photography business needs customers. Providing exceptional customer service helps real estate photography business owners gain repeat business and referrals. In an industry built on relationships, how you interact with clients directly impacts your success.
Let's explore how to make customer service a priority.
Reply Promptly
Start by being responsive. Reply to agent emails and calls within 30 minutes during business hours. Being unreachable risks losing bookings to faster competitors.
Be Professional
Focus on professionalism. Arrive early, dress appropriately, and act courteously on every shoot. Be patient and enthusiastic regardless of the client. Represent yourself and your brand well.
Attention to Detail
Pay attention to details when delivering final images. Double-check orientation, color, and exposure. Ask for feedback on edits and make reasonable tweaks. Accuracy matters when you run a real estate photography business.
Follow Up
Follow up after delivery to ensure satisfaction. Did the shots meet their needs? Ask for reviews and testimonials. This personal touch fosters loyalty and referrals.
Being known as a photographer who is flexible, fast, and focused on the client's ultimate goals will win business. Real estate agents have options – provide a consultative, customer-centric experience that keeps them coming back.
Wrapping Up
Through this guide, we discussed how to start a real estate photography business. We included hot topics like market research, competitive analysis, sourcing equipment, registering your EIN, and more. Hopefully, this guide offers some insight into the real estate photography business market landscape.