The global recruitment industry is rising. As of 2022, the market hit $648 billion, with a projection for continued growth. As talent shortages intensify across sectors, demand for qualified recruiters continues to surge.
Interest in the recruitment field shows no signs of slowing. With over 696,860 recruitment businesses already operating in the US alone, the industry remains highly fragmented. This leaves plenty of room for new players to carve out a niche.
This guide will walk you through how to start a recruitment business. Topics include developing a business plan with concrete market research, sourcing equipment, registering an EIN, forming a legal recruitment services entity, and more. Here's everything you need to know to start your successful recruitment agency.
1. Conduct Recruitment Market Research
Market research is a necessary tool when starting your own small business. It offers insight into the target market, market saturation, trends in services and products, and more. There are two types of market research, primary and secondary. Primary is research you conduct yourself, secondary is conducted by a third party.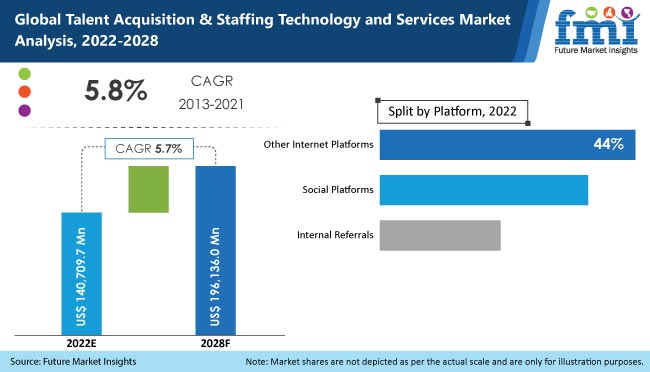 Some things you'll learn through market research on the recruitment process and recruitment agency niche include:
With talent shortages worsening, companies increasingly rely on recruiters to find qualified candidates. 61% of HR managers say sourcing quality talent is their top challenge.
The industry remains highly fragmented, with the top firms controlling less than 25% market share.
104,000 search and placement firms operate in the US, specializing in areas like technology, finance, healthcare, or executive roles.
Many focus on local markets rather than national presences. This fragmentation allows newcomers to compete.
Profit margins are healthy, averaging over 10% for top firms. Randstad and Adecco for example have net income exceeding 8% of revenue.
Scalability through digital tools can further boost margins.
The internet makes recruitment more accessible for startups today. Job boards like Indeed and LinkedIn provide instant candidate access.
AI is streamlining previously manual tasks. These technologies level the playing field between boutiques and behemoths.
Strong industry growth, high fragmentation, healthy profits, and digital enablement collectively signal a compelling market opportunity.
For entrepreneurs with recruitment experience or networks, limited startup capital can readily unlock six and even seven-figure revenue potential.
While national firms have expansive reach, specialized local and regional players thrive by providing targeted, high-touch service.
Developing authority within an industry niche or location remains a proven strategy.
Overall, market conditions have rarely been more favorable for launching a nimble yet scalable recruitment business. As long as job growth continues outpacing qualified applicant supply, demand for savvy recruiting professionals will persist.
2. Analyze the Competition
Understanding the competitive landscape is crucial for positioning a new recruitment firm. Begin by identifying other recruiting agencies based on your planned specialty, location, and services. Competitive analysis of the recruiting agency market offers important details on pricing, service structures, and other details integral to starting your own recruitment business.
Some ways to investigate competitors as you start a recruitment agency include:
For local brick-and-mortar competitors, research their history, reputation, number of staff, offices, and advertised areas of expertise.
Follow and monitor their job postings and client lists to assess scope. Network with people who've used them to learn about the quality of service.
Evaluating online competitors is also vital. Search relevant keywords in Google to find sites ranking for your target terms.
Review the website copy, functionality, and web visitor metrics of top-ranking sites using SimilarWeb.
Assess their social media reach on platforms like LinkedIn, Twitter, and Facebook. Subscribe to their content to gauge messaging, offers, and engagement.
Use Glassdoor and other review sites to compare client satisfaction. Monitor their job board presence and interactions on sites like Indeed and Monster.
By holistically researching key players in the local market across both physical and digital channels, new recruitment firms can find potential gaps and then craft strategies to stand apart. Analyzing competitors is an ongoing process when forming your own recruiting business.
3. Costs to Start a Recruitment Business
Starting a recruitment firm entails both upfront investments and ongoing expenses. Carefully projecting costs across all business facets instills confidence when budgeting for profitability. We'll examine typical start-up and monthly costs based on years of hands-on small business finance experience.
Start-up Costs
Drafting a business plan helps estimate needs, from $2,000 for templates and research up to $10,000 to hire consultants.
Registering a business name and incorporation paperwork runs $500-$2,000.
Office space is a major cost, from $1,000/month for a co-working desk to $3,000 for an initial small office lease.
Required equipment like computers, phones, and furniture generally runs $5,000-$10,000.
Recruitment database software costs approximately $1,000-$5,000 for setup and license fees.
Hiring an initial assistant or junior recruiter at a $40,000-$60,000 salary allows principals to focus on sales.
Budgeting $3,000-$5,000 for an initial website build establishes an online presence. Legal and public liability insurance averages $2,000 annually.
Ongoing Costs
While these costs are variable, expect roughly $15,000-$25,000 in monthly overhead.
Rent and utilities for office space average $2,000-$4,000 depending on location and size.
Increasing staff to 5-10 people may require $15,000-$30,000 in monthly payroll.
Software, database, and web hosting fees total around $500-$1,500 monthly.
Marketing costs like search engine advertising, job boards, and networking events range from $2,000-$5,000 on average.
Phone, internet, and business insurance bills add up to approximately $1,000. Accounting and legal services cost $500-$1,000 per month.
Recruitment advertising to attract new clients involves unpredictable spending scaling with sales, but plan on $2,000-$5,000 monthly.
Travel, entertainment, and office expenses require an additional $2,000 or more.
Growing teams and revenue allows for spreading fixed costs across more billable hours. But sufficient operating capital must cover the first 12-18 months before profits steadily flow.
Planning for contingencies by projecting the high end of cost ranges provides financial breathing room. When launching a recruitment firm, have at least one year's worth of operating expenses accessible, or around $300,000-$500,000.
4. Form a Legal Business Entity
When establishing a recruitment company, choosing the right legal structure is key. As an attorney with extensive small business experience, I recommend forming an LLC for maximum protection and flexibility.
Sole Proprietorship
A sole proprietorship is the simplest option but risks your assets. All business debts and liabilities become your responsibility. Lawsuits or bankruptcy claims can pursue your home, savings, investments, and more. This high exposure makes sole proprietorships ill-advised for recruitment firms.
Partnership
Partnerships allow the sharing of control and liability with others. However, each partner remains personally responsible for all partnership debts unless structuring a limited partnership. Partnership disputes can also trigger messy dissolutions. Recruiters are better served to avoid general partnerships.
Corporation
A corporation shields owners from personal liability, but double taxation of profits and extensive record-keeping make this entity less suitable for small agencies. Restrictions on ownership transferability pose challenges for adding partners or selling shares down the road.
Limited Liability Company (LLC)
Forming an LLC combines the liability protection of a corporation with the pass-through tax treatment of a partnership or sole proprietorship. Only your investment in the business is at risk. The LLC structure flexibility accommodates recruiting companies with any number of owners.
LLCs allow recruitment agency founders to include business partners while retaining full control if desired. Profits pass through to the owners' returns without corporate taxation. LLCs also impose minimal record-keeping requirements.
5. Register Your Business For Taxes
Once you've formed your recruitment company's legal entity, the next vital step is obtaining an Employer Identification Number (EIN) from the IRS.
An EIN functions like a social security number for your business. This unique tax ID number identifies your company for key federal and state requirements.
While sole proprietors can use their SSNs, having an EIN is recommended for liability purposes. An EIN will be mandatory if you hire employees or form a partnership or corporation.
Applying for an EIN is free and straightforward through the IRS website. The online EIN assistant walks you through a series of questions about your business structure and activities.
At the end, your EIN is provided immediately. The entire process typically takes under 10 minutes. You can also apply by fax or mail if preferred.
With your EIN, you can establish business bank accounts, apply for licenses, and register for state and local taxes. Speaking of taxes, if your recruitment agency has a physical office presence, you'll need to register with your state revenue department for sales tax collection.
Navigate to your state revenue website to complete the registration form. Submit your EIN, business address, and description of services provided. Sales tax licenses are also instantaneous and free in most states.
Once registered, you can legally collect and remit sales taxes on services. Requirements vary by location, so consult an accountant to ensure full compliance.
Having an EIN and sales tax ID establishes recruitment agencies as legitimate businesses in the eyes of government agencies. Take the time to formally register your company – the minimal one-time effort reduces risk and prevents future headaches.
6. Setup Your Accounting
Proper accounting is crucial for recruitment agencies to maximize growth and minimize tax liability. As an accountant, I recommend several best practices for managing finances.
Accounting Software
Use software like QuickBooks to automate tracking income and expenses. Integration with bank and credit card accounts categorizes transactions for easy reporting. Quality accounting software saves considerable time while reducing errors.
Hire an Accountant
Hiring an accountant provides experienced guidance on capturing revenue, deducting business expenses, tracking sales tax, and staying current on regulatory compliance. Expect fees between $200-$500 monthly for full bookkeeping services.
Year-end tax preparation and filing typically costs $1000-$3000 depending on entity type and complexity. Consult an accountant at least annually to optimize your return. We proactively identify all applicable deductions and credits to minimize your tax burden.
Open a Business Bank Account
Finance experts also recommend opening a separating personal and business finances. Open a dedicated business checking account and apply for a business credit card.
Apply for a Business Credit Card
Business credit cards allow tracking of work expenditures easily. Banks determine approval and credit limits based on your company's financials rather than personal scores.
7. Obtain Licenses and Permits
Before opening your doors, it's crucial to ensure your recruitment firm complies with all federal, state, and local licensing requirements. Find federal license information through the U.S. Small Business Administration. The SBA also offers a local search tool for state and city requirements.
Many states mandate recruitment agencies carry a state-issued employment agency license. These regulate conduct when placing candidates into permanent or temporary jobs. Licensing aims to prevent predatory practices against job seekers.
Navigate to your state's Department of Labor website to apply for a license. Forms request details on ownership, office location, and types of roles engaged. Applicants usually must pass a background check and pay licensing fees ranging from $25-$500 annually.
Municipal business licenses are commonly required within cities or counties where your office is located. These verify compliance with zoning, health codes, and other regulations. Visit your local administration website to complete the simple application and remit the licensing fee, typically under $100.
If your recruitment firm places candidates into positions involving financial services, transportation, healthcare, education, or public works, additional specialized licenses may be mandated. Research industry-specific state licensing boards to confirm requirements based on engagement areas.
For example, recruiters placing healthcare talent may need to register with the state health staffing licensing board to legally work with hospitals, practices, nursing homes, and other medical facilities. State education departments often oversee similar requirements for education-focused agencies.
Staffing companies that place contractors with third-party organizations should be licensed through the state labor contractor board to legally operate. Validate requirements to avoid violations.
Take time to thoroughly research if your particular focus requires additional licensure beyond the standard business and employment agency credentials. Stay in full compliance to avoid risk and make great first impressions with clients.
8. Get Business Insurance
Adequate insurance coverage is vital to protect recruitment firms from unexpected risks that could lead to financial ruin. As an attorney, I've seen many cases where a lack of proper policies proved catastrophic. Let's review key considerations.
Operating without general liability or errors and omissions insurance leaves dangerous exposure. If a client claims your agency's poor screening or negligence resulted in a bad hire, ensuing legal fees and damages awards could bankrupt the company.
Recruiters also risk claims of discrimination by rejected candidates if reasoned documentation isn't maintained. Even frivolous suits cost tens of thousands to defend without insurance backing.
Other risks like fire, theft, or water damage could destroy precious client and candidate records. Lacking coverage means absorbing full repair and recovery costs yourself.
Workers' compensation policies are mandatory for staff. If an employee gets injured, this insurance handles their medical bills and partial income replacement, shielding owners from expensive claims.
To get insured, first determine appropriate coverage levels with an insurance broker familiar with recruitment exposures. Expect to budget $2,000-$5,000 annually for adequate protection.
The application process will require detailing your entity structure, office location, staff size, operations, and other key business data that underwriters use to assess risk factors and pricing.
With a customized policy quote in hand, you'll submit the required down payment to activate coverage. Make sure to provide any supplementary documentation requested by the carrier to avoid processing delays.
9. Create an Office Space
Choosing the right office setup is an important decision when launching a recruitment firm. The ideal space should convey professionalism when meeting clients and candidates while fostering productivity for your team. Let's examine some potential options and scenarios.
Home Office
Working from home offers major cost savings and flexibility. Home offices work well for solo recruiters just starting. However, growth often necessitates moving into dedicated office space for credibility and room to expand. Home distractions can also hamper productivity over time.
Coworking Office
Coworking spaces like WeWork provide an affordable, flexible office alternative starting at around $300 monthly. Shared amenities and networking events help recruiters build community. Coworking suits small teams of 1-5 people wanting to collaborate. But noise and overcrowding can be drawbacks.
Commercial Office
A private office lease allows control of the environment and branding. Expect monthly costs of $1000 depending on location and size. Traditional leases provide long-term stability once established. However, obligations during slow periods can be problematic. Executive suites can offer shorter-term leases with flexibility.
10. Source Your Equipment
Launching a recruitment firm does not require a substantial upfront investment in specialized materials or equipment. The essentials can be readily secured new or used from a variety of sources.
Buy New
The core office essentials include furniture, computers, phones, and internet connectivity. Purchasing new allows customizing these staples to your preferences, within a budget of approximately $5,000-$10,000. Warehouse stores like Costco offer affordable packages.
New Used
Buying quality used equipment can significantly reduce costs. Scout deals on office liquidation sites like Craigslist. Facebook Marketplace and Nextdoor also list local used furnishings and electronics at around 50%-75% off retail prices.
Rent
For more flexibility, various rental and leasing options exist. National chains like Rent-A-Center allow short-term furniture or electronics rentals with the ability to buy later. This preserves capital for other startup needs.
Lease
Leasing computers and devices through providers like Dell Financial Services lets recruiters acquire equipment via predictable monthly payments while maintaining cash reserves. Tower leasing firms offer similar leasing arrangements for office furniture.
11. Establish Your Brand Assets
Developing a strong brand is crucial for recruitment firms to stand out and attract top talent and employers. Let's examine key steps for creating professional branding assets to market your services.
Get a Business Phone Number
Getting a unique business phone number like one from RingCentral adds legitimacy and provides call tracking data. Virtual numbers allow recruiting anywhere while projecting proximity to your market.
Design a Logo
A polished logo conveys your mission and values. Consider an abstract mark, lettermark, or name-integrated icon. Services like Looka offer affordable logo design and branding packages to fit any budget. Matching fonts, colors, and graphics ensures consistency.
Print Business Cards
Business cards with your logo, phone number, email, and tagline make networking and sales meetings more impactful. Cards expedite contacting your recruiters. Vistaprint provides 500 basic cards for under $50.
Signage and branded office decor project professionalism when clients visit. Backdrops for headshots and branded giveaways also strengthen visibility.
Buy a Domain Name
Secure your agency's domain name using a registrar like Namecheap. Short, simple names are best. Make sure available on social media too.
Design a Website
Building a website establishes an online presence and centralized hub for your services, team, and jobs. Use DIY software like Wix or hire web developers on Fiverr to create a site optimized for conversions.
12. Join Associations and Groups
Joining relevant professional groups and associations accelerates the success of new recruitment agencies by providing invaluable connections and insights. Let's examine some options for plugging into local communities.
Local Associations
Identify associations like the Local Staffing Association that convene recruiters in your metro area. Attending association panels and mixers helps build your network while learning best practices. Expect to pay $100 – $500 for annual membership fees.
Local Meetups
Local startup meetups via sites like Meetup offer both networking and development opportunities. Look for relevant human resources, entrepreneurship, sales, and industry-specific groups. Most meetups are free or very low-cost to join.
Events like job fairs, chamber mixers, and industry trade shows are all great for connecting with fellow recruiters and clients. Bring plenty of business cards and come prepared to build relationships.
Facebook Groups
On social media, follow and engage with other industry thought leaders, especially in your geographic area. Facebook groups like Local Business Networking Group and Staffing Agency Resources – Starting & growing your staffing business provide forums for sharing ideas and best practices.
13. How to Market a Recruitment Business
Implementing an effective marketing strategy is essential for recruitment firms to consistently attract new employer clients and top talent. Let's examine proven approaches for getting your agency in front of key audiences.
Leveraging personal and professional networks should be the cornerstone when launching your firm. Satisfied customers referring additional business generate more qualified leads than any other channel.
Referral Marketing
Offer incentives for referrals such as gift cards or discounts on the next placement. Ask happy clients to provide testimonials and introductions to HR contacts at other organizations.
Digital Marketing
For digital marketing, consider:
Google Ads targeting searches for "recruiters near me" and similar buyer keywords in your geographic area
Facebook and Instagram ads promoting your expertise in niches like technology hiring
Creating a YouTube channel with tips for job seekers and employers
Email newsletters with available jobs and hiring insights
Optimizing your website for organic search by regularly publishing relevant blog content
Traditional Marketing
For traditional marketing, options include:
Designing brochures to distribute at local networking events and trade shows
Sending direct mail postcards to announce new services or achievements
Advertising in industry publications and directories related to your specialties
Sponsoring local job fairs or career development organizations
Running local radio ads during drive times to increase visibility
Networking and presenting at local Chamber of Commerce meetings
The most effective approach blends digital marketing for scalability with targeted, personal outreach to high-potential prospects. Dedicate time weekly to promotions and relationship building.
Monitor results closely to double down on tactics working well. Be prepared to iterate on marketing plans quarterly. A mix of persistence and agility will steadily grow your agency's brand and client roster.
14. Focus on the Customer
Providing exceptional customer service is crucial for recruitment firms to retain clients and drive referrals. Given the competitive landscape, recruiters must go above and beyond to build lasting relationships.
Be highly responsive when working with both candidate and employer contacts. Set clear expectations upfront on process timeframes and meet all deadlines. Follow up frequently with updates throughout the recruiting cycle.
Ask clients for feedback on placements and address any concerns immediately. Check in regularly even after filling a role to foster ongoing partnerships. Offer to tweak job descriptions or re-engage past applicants if an employee leaves shortly after hire.
Exceed expectations in small ways, like handwritten thank you notes or providing interview tips to candidates not selected. These personal touches get remembered when employers have future openings to fill.
Offer additional services like consulting on compensation benchmarking or crafting employee retention strategies beyond pure applicant sourcing. Become a strategic talent advisor, not just a recruiter.
Providing white glove service earns referrals as clients tell peers about your agency's commitment to understanding their needs. Prioritizing relationships breeds loyalty even when competitor fees may be slightly lower.
For recruitment specialists, exceptional service represents perhaps the best marketing strategy and competitive differentiator. How you treat each interaction shapes your reputation and propels sustained growth.