The vending machine industry pulls in an impressive $25 billion in sales each year in the United States alone, with an estimated 5 million machines in operation nationwide. According to industry research, the industry has seen steady growth over the past five years, projecting over 4% annual growth through 2025.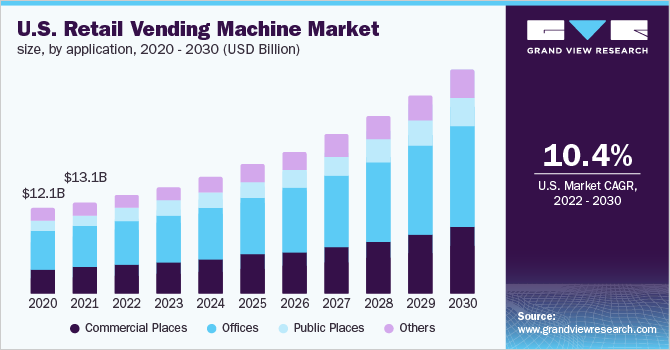 The ongoing growth and low overhead cost in the vending machine business structure present a lucrative opportunity for aspiring entrepreneurs. If you're looking to capitalize on our country's insatiable appetite for convenient snacks and drinks, this is the market for you.
Through this convenient guide, we'll talk about how to start a vending machine business. Topics covered include types of vending machines and where to source them, market research, registering your EIN, and more.
1. Conduct Vending Machine Market Research
According to IBIS World, the vending machine business industry is projected to grow at a CAGR of 4.1% from 2020 to 2025. This growth is driven by increasing demand for convenient snacks and beverages, as well as improving economic conditions. This is information gleaned through vending machine business market research.
Market research comes in two forms, primary and secondary. Primary market research is research you conduct yourself, like creating an online consumer poll or visiting competitors in person for service information. Secondary marketing is information collected by a third party like a government statistics website.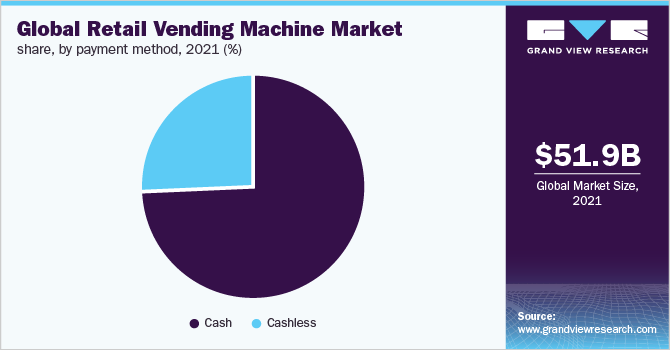 Some things to research as you check on competitors include:
Top Vending Machine Business Competitors
The top vending machine businesses in the industry are Coca-Cola, PepsiCo, Aramark, and Compass Group. Together, these companies account for over 40% of industry revenue. Smaller operators make up the remainder of the market.
Popular Vending Machine Products
The most profitable vending machine industry products are cold beverages, candy, snacks, and coffee. According to VendWeb, beverages account for 80% of vending machine sales. Specialty vending machines and toy vending machines have a place in the vending machine market as well.
Vending Machine Location
The most popular vending machine locations are office buildings, colleges, airports, train stations, factories, and hospitals.
Target Market
An important step when you start a vending machine business is finding a location with need. Top spots see heavy foot traffic and high demand. It's also crucial to keep machines well-stocked and maintained to maximize uptime and profits.
While national players dominate the landscape, a small vending machine operator can compete by focusing on specific locales, niche products, and superior service. Partner with schools, offices, and other venues to grow your own vending machine business network.
2. Analyze the Competition
When starting a successful vending machine business, it's crucial to analyze your competition, both local operators and alternatives like convenience stores.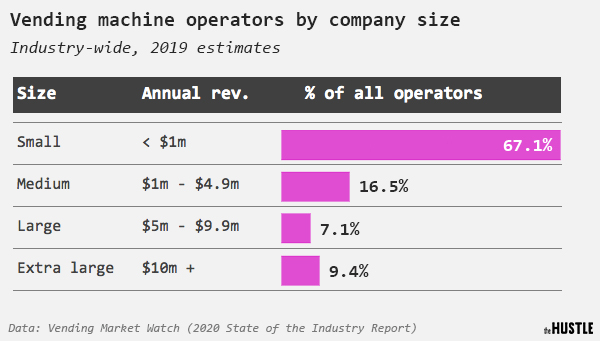 Identify Your Local Competitors
Identify who the major vending machine companies are and evaluate their footprint. Drive around and note locations, product offerings, and pricing. This will help you find gaps you can fill. Services like Euromonitor also provide industry data.
Check Out Local Vending Machine Services
Research the full range of products and services competitors offer when you start a vending machine business. Do they provide just snacks and drinks? What about coffee, ATMs, or eco-friendly options? Differentiating your offerings can be a competitive advantage.
Read Online Reviews
Online, search for all vendors serving your target area. Check their websites and reviews. This can reveal pain points to avoid and opportunities to improve. Monitor social media to see customer feedback and complaints.
Look Into Local Vending Machine Alternatives
Also, evaluate alternative options like nearby convenience and grocery stores. How do their prices, selection, and convenience compare? Vending provides 24/7 access, but you still need competitive pricing.
3. Costs to Start a Vending Machine Business
When launching a beverage vending machines startup, there are various one-time start-up costs to consider before you begin operations.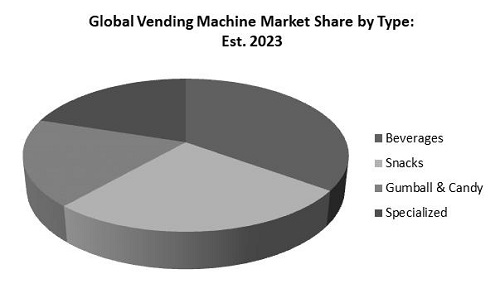 Start-up Costs
Startup costs are costs you incur as you begin your bending machine business venture. Usually, this covers office rentals, equipment, and license registration. Let's take a closer look at where the money goes.
Bulk Vending Machines – $1,000 to $5,000 per machine. Plan to buy a few vending machines initially (3 to 5).
Product Inventory – $300 to $500 per machine
Vehicle – $8,000 to $20,000
Software – $50 to $200 per month. Software like Cantaloupe or 365 Retail Markets helps track machine inventory and sales.
Insurance – $1,000 to $2,000 annually. General liability insurance protects against damage claims and lawsuits.
Professional Services – $2,000 to $5,000
Licenses & Permits – $500 to $2,000
Cash Reserves – $5,000 to $10,000
Vending machine businesses spend the most on vending machines and inventory in the first year.
Ongoing Costs
Owning your own vending machine business takes an ongoing financial commitment. Ongoing costs include:
Vehicle Fuel & Maintenance: $150 to $300
Product Inventory: $1,500 to $3,000
Software Fees: $50 to $200/month
Cellular Data Plan: $50 to $150/month
Storage Space: $150 to $500/month
Insurance: $100 to $200/month
Loan Payments: Varies
With lean operations and optimal machine placements, vending can be a profitable low-overhead business. However sufficient startup capital and planning will give your new venture the best chance of success.
4. Form a Legal Business Entity
As vending machine business owners, choosing the right legal structure is a big responsibility. The four main options each have advantages and disadvantages to weigh.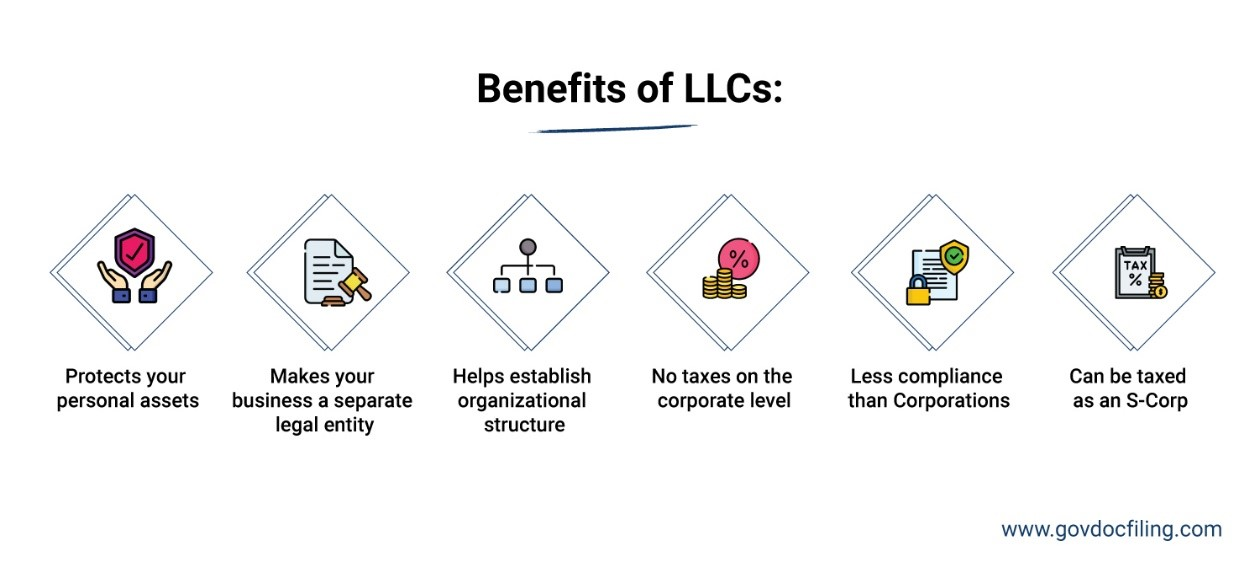 Sole Proprietorship
A sole proprietorship is the simplest and most common for a vending machine company. There is little paperwork – you can just start operating the business under your name. You retain full control and get all the profits. However, there is unlimited personal liability. You are legally responsible for all debts and liabilities of the business. Your assets can be seized in a lawsuit.
Partnership
Forming a general partnership splits ownership between two or more people. You share control, profits, and liability. The business itself does not pay taxes – profits pass through to partners to report. However, partnerships can be risky because each partner is personally responsible for the actions of the other(s). One partner's negligence can leave you all liable.
Corporation
A corporation is a separate legal entity from the owner(s). It shields your assets from claims against the company. Corporations can sell stock and have access to more financing options. However, they are complex to set up and require regular shareholder meetings, company minutes, and formal record-keeping. Taxes can be doubled – on corporate profits and dividends.
Limited Liability Company (LLC)
For a vending machine company, the best structure is likely a limited liability company (LLC). LLCs limit personal liability while allowing pass-through taxation like a partnership. Owners' assets are protected from business debts and claims. LLCs can have just one owner or multiple partners.
5. Register Your Business For Taxes
Obtaining an Employer Identification Number (EIN) from the IRS is important when learning how to start a vending machine business. This unique ID number is like a social security number for your business.
An EIN is required to open business bank accounts, apply for licenses, and hire a vending machine operator. It also helps register your LLC with state and local government agencies.
The process of getting an EIN is quick and free through the IRS website. Follow these steps:
Review the EIN eligibility requirements and gather any documents about your LLC formation. You'll need your personal identifying information, business name, and address.
Go to the EIN Assistant page on the IRS site. Select the option for "View Additional Types, Including Tax-Exempt and Governmental Organizations."
Choose the option for "A Limited Liability Company (LLC) formed after 5/13/96" and the appropriate LLC classification.
Enter your info, business details, and responsible party. Specify if you want to authorize others to receive the EIN.
Carefully review all entries to confirm accuracy before submitting.
The IRS will immediately provide your EIN upon completion of the online form.
Print and save the confirmation notice for your records. This contains your EIN and is needed going forward.
In addition to the federal EIN, contact your state revenue department to register for sales tax collection as a vendor. This requires submitting your EIN.
With an EIN and sales tax approval in place, you can fully operate your vending machine business across your target territories. Display the registration certificates as required by law.
6. Setup Your Accounting
Proper accounting practices are critical for any successful vending machine business. Accurate bookkeeping and financials help owners make sound decisions and avoid issues with the IRS.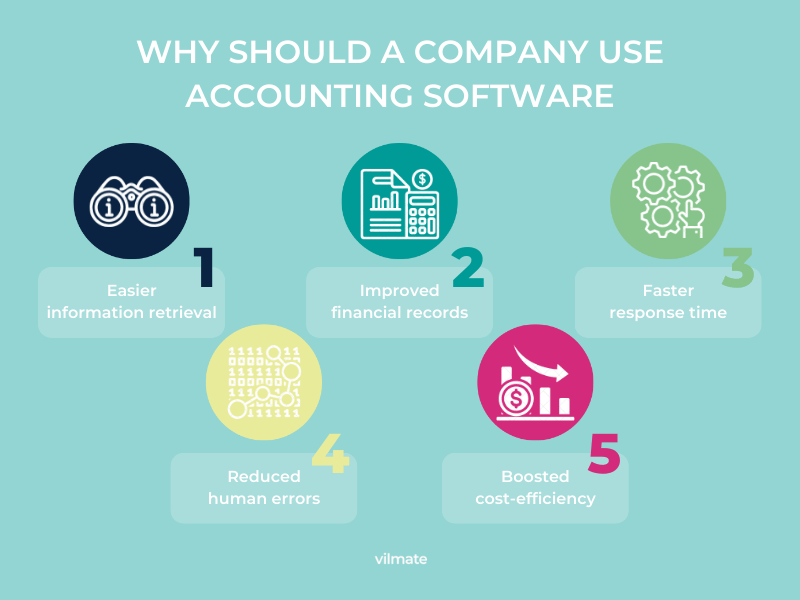 Accounting Software
Investing in small business accounting software like QuickBooks can automate many accounting tasks. QuickBooks seamlessly syncs with bank and credit card accounts to log transactions and generate financial reports. This software reduces manual data entry and ensures records are complete.
Hire an Accountant
Hiring an accountant is also advisable, even if only for year-end tax preparation. Accountants can provide bookkeeping and reconciliation services to ensure your accounts are audit-ready at all times. Expect to invest at least $500-1000 for annual tax filing if you handle basic QuickBooks entries yourself.
Open a Business Bank Account
Be sure to separate personal and business finances. Open a dedicated business checking account to use for all vending machine deposits, payments, and expenses. Never co-mingle personal and business funds.
Apply for a Business Credit Card
Also, apply for a business credit card in your LLC's name. Issuers will require your EIN and business documents. Approval is based on the company's financials, not your credit score. Business cards don't appear on your credit report either. They provide up to $10,000 and up in spending flexibility.
7. Obtain Licenses and Permits
Before operating a vending machine business, it is crucial to obtain all required licenses and permits. Look for federal license regulations through the U.S. Small Business Administration. You can find local license and permit options through the SBA search tool.
You may need to apply for a vending machine permit or operator's license in each territory you service. Fees range from $25 to over $200 per location annually. The California Department of Tax and Fee Administration, for example, charges $200 yearly. Verify license costs in every municipality you expand to.
Additional health permits are likely required to sell food. Check with your state to determine if a food handler's card or permit is needed. Mobile food vendor licenses may be necessary for public event machines.
Some cities limit the number of vending licenses available. New Orleans, for example, only offers 100 mobile vendor licenses. So apply well in advance to secure slots. There may also be zoning restrictions on where machines can operate.
8. Get Business Insurance
Having adequate insurance is critical to protect your vending machine business from unforeseen risks. The right policies safeguard your company's assets and help cover legal liabilities.
For example, general liability insurance handles injury claims if someone is hurt by one of your machines. Product liability protects if a defective product you sold causes harm. Commercial property coverage replaces stolen or damaged machines and inventory.
Without insurance, a few scenarios could cripple your business:
A machine malfunctions and seriously injures a customer, leading to a lawsuit and settlement exceeding $100,000.
A faulty beverage machine starts an office building fire, resulting in massive repair costs and legal claims.
Several machines are vandalized beyond repair, costing thousands to replace.
To get covered, first, assess your risks and necessary policy types. General liability, product liability, commercial property, and commercial auto are essential. Then get quotes from leading insurers like Progressive. Compare premiums, exclusions, deductibles, and limits. An agent can explain differences and make recommendations.
9. Create an Office Space
Learning how to start a vending machine business takes a quiet space for administrative duties. This is where having an office comes in handy. Use your vending machine business office for bookkeeping, sales calls, employee training, and inventory management.
Here are some options suitable for an office in the vending machine industry.
Home Office
A home office is the most affordable option, with no extra rent or commute. But it can be distracting balancing work and family. It's harder to separate business and personal life. Lack of dedicated space may limit growth. However, a spare bedroom or basement converted into a basic office can work initially.
Coworking Office
Coworking spaces like WeWork offer more professional environments month-to-month. Open floor plans promote collaboration, often with meeting rooms, events, and amenities. Typical costs range from $200 to $500 monthly. The flexibility suits businesses with fluctuating needs. But noise could hinder productivity.
Retail Space Office
Leasing retail space may be relevant if you want a small storefront to sell accessories like headphones or phone chargers. Store visibility provides advertising and convenience. Expect to invest $1,500-$4,000 or more monthly for a quality location.
Commercial Office
For long-term stability, renting traditional office suites gives you complete control over layouts and signage. While more costly at $800-$1,500 monthly, the consistency can enhance productivity and professionalism as you scale. Purchasing office condos is also an option if you want ownership.
10. Source Your Equipment
The core equipment needs for a vending startup are the machines themselves plus a vehicle for transport and delivery. There are four main options to acquire bulk vending machines: buying new, buying used, renting, or leasing.
Buy New
Purchasing brand new machines from manufacturers like Crane or Automated Merchandising Systems gives you modern, warrantied units. However, costs can be prohibitive at $3,000 to $5,000 per machine.
Buy Used
Buying used machines saves substantially on startup costs. Well-maintained used vending machines run $1,000-$3,000. Check sites like eBay, Craigslist, and Facebook Marketplace for local sellers. Inspect carefully before purchasing.
Lease
Lease your equipment to stagger financing. Typically, 36 to 60-month leases run $100 to $300 monthly per machine. You get new, reliable machines without huge upfront costs. However, leasing expenses add up over time.
Rent
Renting machines on a short-term basis is also an option. VendRite offers flexible monthly rentals for events or temporary locations. Rental costs depend on the machine type, features, and duration.
11. Establish Your Brand Assets
Developing a strong brand is crucial for any vending startup to stand out and build recognition. Consistent branding conveys professionalism and helps attract customers.
Here are some options to brand your vending machine business:
Get a Business Phone Number
Having a dedicated business phone line adds legitimacy versus using a personal cell. Services like RingCentral provide toll-free numbers, call routing, voicemail, and more from $20 to $50 monthly.
Design a Logo
A logo encapsulates your brand identity. Consider a simple, memorable icon-based logo that's bold enough to stand out on machines. Services like Looka help create affordable logos and complementary brand assets.
Print Business Cards
Business cards with your logo, phone, website, and other details are essential for networking and securing new accounts. Cards can be printed via Vistaprint affordably. They're great for introducing yourself to potential vendors.
Order branded decals and signage to display on your machines, vehicle, and future office space. This boosts visibility as customers associate your brand with quality and convenience.
Buy a Domain Name
Secure a domain name that matches your business name if possible. Short memorable names ending in .com are best. Sites like Namecheap offer domains from $9 to $15 yearly.
Design a Website
A basic website helps establish your brand digitally. Consider templates from Wix or Squarespace to easily create pages about your products, services, company history, and more. Or hire a freelancer on Fiverr for a custom-designed site.
12. Join Associations and Groups
Joining relevant local and industry organizations is a smart way for vending entrepreneurs to make connections and learn insider tips.
Local Associations
Seek out local vending and refreshment services associations that provide built-in networking and training opportunities. For example, the SoCal Food Processors offers conferences and resources.
Local Meetups
Attending meetups and trade shows aids networking beyond just reading online advice. Sites like Meetup help find upcoming small business and entrepreneur events nearby. Introduce yourself and exchange insights with fellow vendors in person.
Industry trade shows like the National Automatic Merchandising Association (NAMA) Show offer a wealth of educational sessions, new product unveilings, and networking.
Facebook Groups
Facebook groups bring the convenience of online advice to tap into crowdsourced experiences:
Join relevant groups to read archives and participate in ongoing conversations. Contribute your questions and advice occasionally too.
13. How to Market a Vending Machine Business
Implementing an effective marketing strategy is essential for any vending business to build awareness and attract new customers. With the right tactics, entrepreneurs can accelerate growth and compete with larger operators.
Some marketing methods to employ in your vending machine business are:
Personal Networking
Leveraging your network is the most cost-effective starting point. Reach out to friends, family, colleagues, and acquaintances to spread the word about your new business. Offer free trials or discounts to incentivize them to try your machines and refer others.
Referral Programs
Satisfied customers are also powerful marketing advocates. Run occasional promotions offering free products in exchange for reviews, testimonials, and referrals. This converts happy clients into brand promoters.
Digital Marketing
Some digital marketing approaches to consider include:
Google Ads – Target local searches for "vending machines" and similar terms via paid search ads.
Facebook/Instagram Ads – Run ads focused on office workers, schools, etc. based on ideal customer demographics.
YouTube Channel – Create vending machine service and restocking videos to demonstrate expertise.
Blogging – Write posts like "Top Healthy Vending Machine Snack Ideas" for SEO benefits.
Google Business Profile – Fully optimize your free listing to stand out locally.
Traditional Marketing
Traditional tactics like the following can also help build localized awareness:
Direct Mailers – Send postcard promotions to targeted neighborhoods or businesses.
Flyers – Distribute flyers on community boards, local shops, offices, etc.
Billboards – Place outdoor ads along busy commuter routes.
Local Radio – Air short radio commercials on popular stations.
Local Events – Have a booth or sponsor local concerts, fairs, fundraisers, etc.
Begin with low-cost digital marketing to maximize ROI. Tap into your network and existing audience. As you scale, consider adding select print, radio, TV, or outdoor ads to blanket your region.
14. Focus on the Customer
Provide exceptional customer service to be a top contender in the vending machine industry. How you support and interact with clients can make or break your reputation and referrals.
Some ways to focus on your customers include:
Minimize potential problems: You want to minimize malfunctions that frustrate patrons. Respond promptly if a machine is reported broken or empty.
Open communication: Offer easy ways for customers to report issues, like contact forms on your website and stickers on each machine with a support number. Track machine reliability metrics to identify problem units.
Refund policy: When complaints arise about inaccurate charges, damaged products, or stale inventory, address problems with empathy and speed. Offer refunds or free snacks when appropriate to make amends.
Feedback system: Setting up a feedback system like email surveys helps monitor satisfaction. Regularly ask clients if the machines are meeting their expectations. Implement suggestions when feasible.
Providing a quality self-service experience and being responsive is how to earn loyalty and referrals. With vending, customer service is your chance to stand out.