The web development industry is booming. According to Statista, the global internet software and services market is projected to reach nearly $760 billion by 2025, up from around $430 billion in 2019. With more businesses operating online than ever before, demand for web developers continues to grow.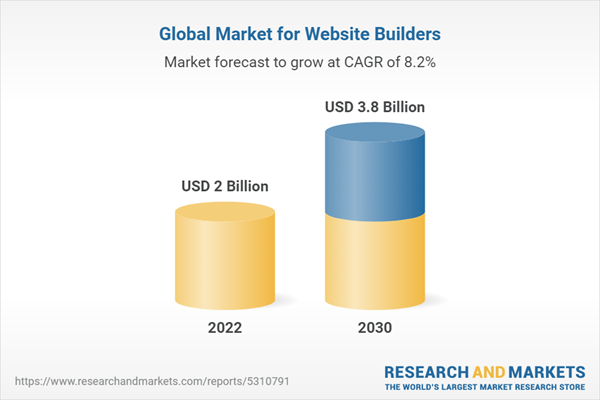 Whether you want to build sites and applications for clients or create your digital products and services, now is an excellent time to start a web development company. You don't need a computer science degree to become a web developer today.
With user-friendly site builders, codeless solutions, and a wealth of online education resources, launching a successful web dev business is more accessible than ever. This guide will help you learn how to start a web development business. Topics include market research, marketing, registering an EIN, obtaining business insurance, and more.
1. Conduct Web Development Market Research
Market research is essential to web designers. It offers insight into the web design industry, including trends in building a business website, your target market, local market saturation, and other important data.
Several key factors are driving this growth:
Increased Internet and mobile usage – There are over 4.6 billion Internet users globally today, up from under 2 billion in 2010.
Higher internet penetration leads to greater demand for web services and developers.
E-commerce explosion – Retail e-commerce sales topped $4.2 trillion in 2020, accelerating the need for online stores and web apps.
COVID-19 further fueled e-commerce adoption.
Digital transformation – More companies are shifting business processes online and view websites/apps as critical. Forrester predicts over 50% of global GDP will be digitized by 2023.
Rise of SaaS – The SaaS market is exploding, projected to reach $227 billion by 2022. Web developers are needed to build these cloud-based apps.
The types of services in highest demand include:
Website design – Custom sites for SMBs, e-commerce stores, blogs, portfolios, etc. Freelancers can provide quality sites for lower costs vs agencies.
Web/mobile app development – Apps becoming essential for businesses. Startups need MVPs built affordably.
E-commerce development – Building and optimizing online stores using platforms like Shopify and WooCommerce.
WordPress development – From blogs to business sites, WordPress powers over 40% of the web. Huge demand for customization services.
Front-end development – Making sites attractive, responsive, accessible, and converting. Allows focusing on visual design vs back-end.
With low barriers to entry and ample online resources for learning web development, opportunities abound for freelancers and agencies to capitalize on this growth market. Success comes down to choosing a profitable niche, effectively marketing/selling services, and delivering high-quality work that keeps clients coming back.
2. Analyze the Competition
Understanding the competitive landscape is crucial when starting a web development business. This involves identifying direct competitors, analyzing their online presence and offerings, and determining how you can differentiate.
To find competitors, search-relevant keywords in Google and industry directories like Clutch. Look for web dev agencies and freelancers in your geographic area first.
Monitor their websites, portfolios, and listings to gather intel on services offered, clients, pricing, and marketing messaging. Compare this to your own planned positioning.
Search social media to see the content they post and how many followers they have. This shows their traction and customer engagement.
Track online reviews and ratings to assess quality of work and customer satisfaction. Spot pain points you can improve upon.
For local brick-and-mortar businesses, audit their website's design, functionality, and SEO. Is their online presence as strong as competitors? Are they capitalizing on digital? This highlights opportunities to offer web development services to help them improve.
Conducting competitive research upfront and consistently allows you to:
Price your services competitively
Identify your niche and unique value proposition
Improve upon competitors' flaws and weaknesses -stay updated on new offerings and trends
Ongoing analysis ensures you build a sustainable competitive advantage in the dynamic web development market.
3. Costs to Start a Web Development Business
When starting a web development business, there are various one-time start-up costs to consider before opening for business. You'll also encounter ongoing business expenses as you delve into project management as a web design company.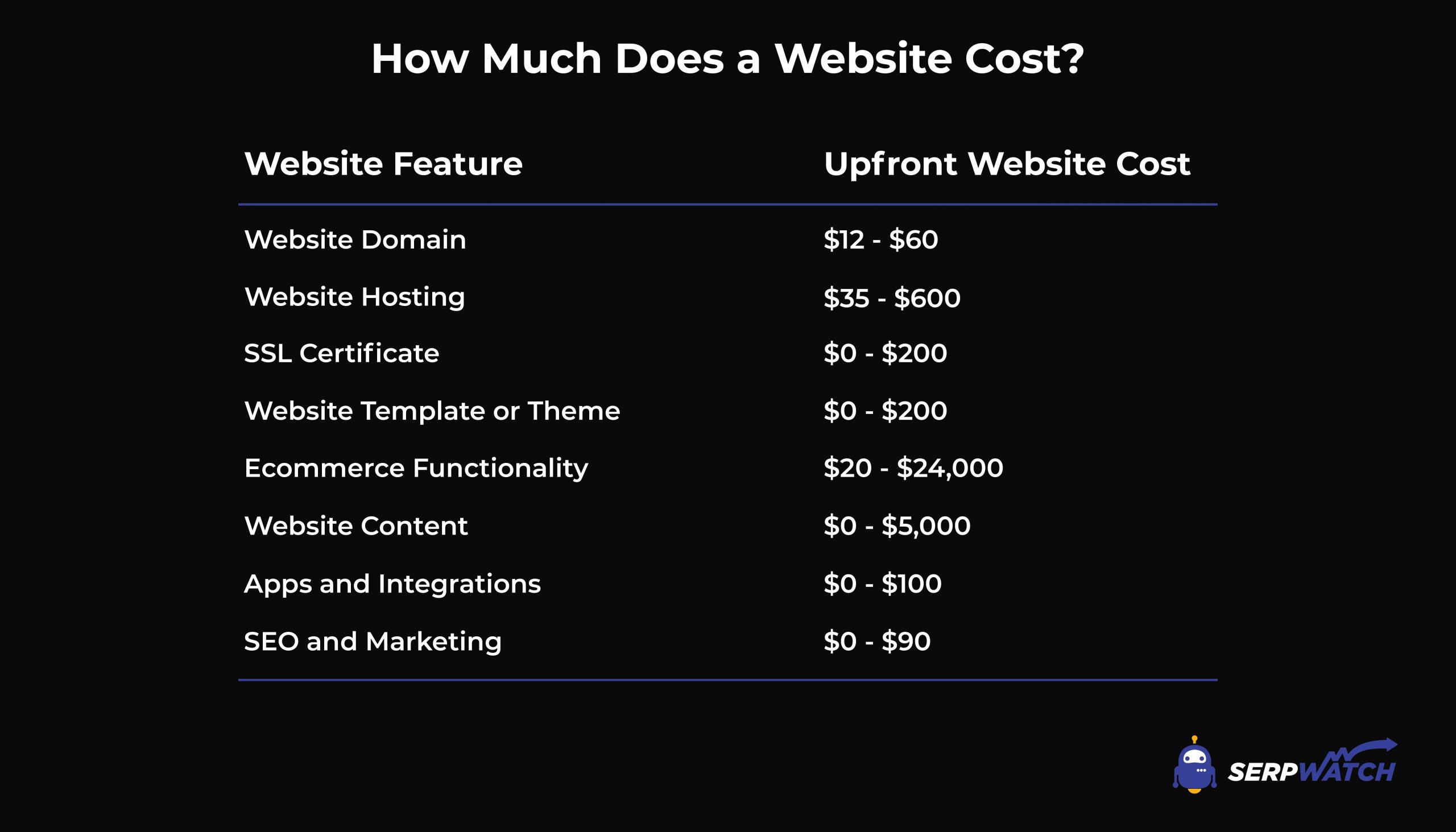 Start-up Costs
Registration/Incorporation Fees – Depending on your business structure, expect to spend $50-$500 to register your business name and obtain proper licenses/permits. Sole proprietors can register a DBA for around $50 while incorporation may cost $500+.
Workspace – For home-based businesses, this could be $0. Leasing office space can cost $1,000-$5,000 per month depending on location and size. Coworking memberships are around $150-500 monthly.
Hardware – A quality laptop ($1,000-$2,000), second monitor ($100-$300), peripherals like mouse/keyboard ($50-150), and potentially a printer ($100-$300).
Software – Operating systems, programming tools, design software, office suites, etc. Budget $500-$2,000 for necessary applications and subscriptions.
Website – Having a professional site helps win clients. Budget $1,000-$5,000 for initial site design and development costs.
Marketing – Initial launch marketing and sales materials like business cards can cost $500-$2,000.
Professional Services – Lawyers and accountants cost $300-$500 for initial consultations and contract reviews.
Working Capital – Have 3-6 months of operating capital saved as a buffer. This could be anywhere from $5,000-$20,000+ depending on your living costs.
Total first-year start-up costs for a basic web development business likely range from $10,000-$35,000+ for solo freelancers. Agencies with employees incur higher costs for office space, equipment, salaries, etc.
Ongoing Costs
Hosting/SaaS fees – $50-$500
Software subscriptions – $50-$500
Coworking space – $150-$500
Utilities – $100-$500
Marketing expenses – $250-$2,000+
Phone/internet – $100-$300
Insurance – $100-$500
Professional services – $100-$500
Salaries (if employees) – wide range
Taxes – budget 20-30% of income
The first-year total ongoing costs for a freelancer may be $10,000-$25,000. Agencies with staff will land much higher.
4. Form a Legal Business Entity
When starting a web development company, a key decision is choosing your legal business structure. The four main options each have pros and cons to weigh.
Sole Proprietorship
A sole proprietorship is the simplest structure. You operate as an individual with unlimited liability.
Pros:
Easy and inexpensive to set up
Few legal formalities
Cons:
No liability protection – your assets can be seized
Harder to raise investment capital
Limited options for tax reduction strategies
Partnership
A partnership involves two or more co-owners sharing control and profits. Like sole proprietors, partners have unlimited personal liability.
Pros:
Low setup costs and requirements
Shared decision making
Combined resources and expertise
Cons:
Equally responsible for actions of the other partner(s)
Profit sharing must be negotiated
Potential for disputes and deadlock
Limited Liability Company (LLC)
An LLC provides personal liability protection while allowing pass-through taxation. This is a popular choice for web devs.
Pros:
Owners are not personally liable
Flexible management options
Increased credibility with clients
Easy to add owners or raise investment
Cons:
More complex to establish official filing requirements
Increased legal/tax formalities
Corporation
A corporation is a separate legal entity owned by shareholders.
Pros:
Limited liability for owners
Increased access to capital and financing
Option to go public and sell shares
Cons:
Most expensive and complex to set up and maintain
Extensive recordkeeping and reporting
Double taxation on profits and dividends
For most web development firms, forming an LLC provides the best mix of liability protection, tax flexibility, and ease of management. It's a scalable structure that gives credibility when pitching clients. Just be sure to handle legal formalities diligently. Consult an attorney to ensure you make the optimal choice.
5. Register Your Business For Taxes
Unless you plan to operate your web development business as a sole proprietor using only your social security number, you'll need an Employer Identification Number (EIN) from the IRS.
An EIN serves as your business's tax ID number for federal tax purposes. It is required to:
Open a business bank account
Apply for business licenses and permits
File and pay business taxes
An EIN is necessary for LLCs, corporations, partnerships, and even sole proprietors with employees.
Fortunately, applying for an EIN is quick and free through the IRS website.
To apply, first determine your business structure. Then gather any documents showing official registration.
Navigate to the EIN Assistant and answer a few short questions about your business. You'll need to provide basic information like business name, address, and ownership details.
After submitting the online application, you will receive your EIN immediately. The entire process usually takes less than 10 minutes.
Save this EIN as you'll need it frequently for tax and legal documents. You should also apply for any necessary state tax IDs on your state revenue department's website to handle sales tax collection.
There are no fees to obtain an EIN. However, individual states may charge nominal processing fees ranging from $5-$25 for sales tax permits and other business licenses.
Having an EIN establishes business tax compliance and legitimacy from day one. Take this important step early in the web development startup process for smooth legal and financial operations.
6. Setup Your Accounting
As a web developer, meticulous financial recordkeeping and accounting practices are crucial from day one. This not only ensures tax compliance but gives you insights to make smart business decisions.
Accounting Software
Investing in tools like QuickBooks can automate much of the accounting process. Connect your bank and credit card accounts so transaction data flows into QuickBooks. This categorizes income and expenses for easy tracking and reporting.
Hire an Accountant
Hiring an accountant is highly recommended as well. They can handle key tasks like:
Setting up your accounting system
Performing monthly reconciliations
Providing financial statements
Filing quarterly/annual tax returns
Identifying tax deductions you may miss
Expect to invest around $200-$500 per month for routine bookkeeping and accounting. Come tax time, preparation fees range from $500 for simple returns to $2,000+ for more complex reporting.
Open a Business Bank Account
Keeping business and personal finances completely separate is also vital. Open a dedicated business bank account to avoid commingling funds.
Apply for a Business Bank Account
Get a business credit card as well. Compared to personal cards, business cards offer:
Higher limits to grow with your company
Employee card issuance with spending controls
Better rewards like cash back or travel perks
Have your EIN, income documentation, and business registration ready when applying. The limit and security deposit are determined by your estimated monthly spending.
7. Obtain Licenses and Permits
Before taking on any clients or generating revenue, it's crucial your web development business has the proper licenses and permits in place. Find federal license requirements through the U.S. Small Business Administration. Find state requirements through the SBA local search tool.
The specific permits needed depend on your location and business structure. Common licenses include:
Business License – Most cities and counties require a general business license to operate. Fees are usually under $100 annually. Apply through your local city hall or county clerk's office by submitting a simple application and paying the fee. This license covers you at the most basic level.
Fictitious Name Permit – If operating under a DBA ("doing business as"), register your fictitious name with the county clerk to obtain this permit before marketing or promotion. Expect fees of around $50 depending on location.
Sales Tax Permit – While web developers don't collect sales tax, a permit is often still required to show you comply with tax law. Submit minimal paperwork to the state revenue or taxation department for approval. Costs are generally under $20.
Building Permits – If leasing office space, permits related to occupancy, equipment installation, signs, and building modifications may be required. Contact your local planning/development office to understand what's needed based on your situation.
8. Get Business Insurance
Obtaining proper business insurance is highly recommended for web development companies. It protects you in the event of unexpected losses that could otherwise devastate your business.
Some common risks include:
A client sues for poor quality work resulting in high legal fees.
A cyber attack leads to data breaches and expensive recovery efforts.
Key equipment like computers or servers are damaged or stolen.
An office fire destroys hardware and files, halting operations.
Having coverage like general liability insurance, cyber/data breach insurance, business property insurance, and E&O (errors and omissions) insurance can be an absolute lifesaver should disasters strike. The costs pale in comparison to the financial, legal, and reputational harm of being uninsured.
To get covered, first, assess your risks and desired protection levels. Then obtain quotes online or work with an insurance agent or broker. Be ready to provide details on your business structure, location, client contracts, and more.
Policies a successful web development business would typically cost a few hundred to a few thousand dollars annually depending on the extent of coverage. Review options carefully to balance premiums with sufficient coverage limits for peace of mind.
9. Create an Office Space
Having a professional office space lends legitimacy and provides room to collaborate, meet with clients, and separate work from home. While a home office works initially, most web developers eventually require external space.
Home Office
Converting a spare room into a home office costs little upfront for a web designer. It allows a quiet, convenient workspace when starting solo. However, meeting clients at home appears unprofessional long-term. Distractions like kids, pets, or chores also reduce productivity. Expect to invest $500-$2,000 furnishing a home office.
Coworking Space
Affordable coworking spaces like WeWork offer desk rentals starting around $300 monthly. These provide office infrastructure without overhead costs, great for a web design business. Coworking also enables networking with fellow entrepreneurs. Downsides include noise and lack of privacy during calls.
Retail Office
For location-based visibility, a modest retail space costs approximately $1,000-$1,500 monthly. However, street-facing offices rarely suit web developers' needs. Most client meetings are virtual or offsite. Retail spaces are better suited for professional services meeting patients, clients, or students onsite.
Commercial Office
Leasing traditional office space provides the most professional environment but carries the highest costs. Expect to spend $3,000-$10,000 monthly for commercial offices with meeting rooms and custom configurations. This pays off through space to grow but requires multi-year leases unsuitable for new companies.
10. Source Your Equipment
Web developers need quality hardware and software to deliver results for clients. While costs add up, numerous options exist to secure equipment affordably.
Buying New
Purchase everything new from retailers like Best Buy. Top-of-the-line laptops, PCs, monitors, accessories, etc. ensure optimal performance. However, expect to spend $2,000-$5,000+ outfitting your technology toolkit by buying brand-new equipment.
Buying Used
Save substantially by purchasing used equipment in good condition. Scout deals on:
eBay – Broad selection of cheap refurbished systems.
Craigslist – Meet locals selling used computers in your area.
Facebook Marketplace – People often sell laptops and monitors at discounts.
Buy used gear at 50-80% off retail prices. Test thoroughly and buy from reputable sellers to avoid lemons.
Renting
For short-term needs, renting computers and accessories is economical. National chains like Rent-A-Center offer flexible monthly computer rentals. Useful when needing systems quickly for temporary contractors or overflow projects.
Leasing
Leasing via IT equipment financing companies spreads costs over time. Often includes maintenance/warranties. A good option for accessing the latest systems without major upfront capital expenses. The downside is being locked into lengthy lease terms as a newer entrepreneur.
11. Establish Your Brand Assets
Establishing a strong brand is crucial for web development companies to stand out. By investing in core brand assets upfront, you lay the foundation for recognition and growth.
Getting a Business Phone Number
Secure a professional business phone number to accept client calls with services like RingCentral. Choose a local area code and dedicated business line vs using your cell. This builds credibility and keeps work separate.
Creating a Logo and Brand Assets
A logo crystallizes your brand. Consider a letter mark using initials or an abstract design mark symbolizing technology. Tools like Looka make professional logos easy and affordable.
Ensure brand colors, fonts, imagery, and messaging align with your logo across websites, business cards, proposals, and more. Consistency drives recognition.
Creating Business Cards and Signage
Order quality business cards from Vistaprint to network offline and leave with prospective clients. List your services, logo, phone number, email, and web address so prospects can connect.
Signage may also be needed depending on your office location to direct clients.
Purchasing a Domain Name
Secure a domain name matching your brand like YourCompany.com. Short, simple, and memorable is best. Use a trustworthy registrar like Namecheap. Redirect it to your primary website and leverage it for professional email addresses.
Building a Website
Every web developer needs a polished website to establish expertise. Use DIY builders like Wix or hire a freelancer on Fiverr if you lack web skills. Showcase past work, services, and ways to contact you prominently. This is your 24/7 sales hub – invest time and budget accordingly.
12. Join Associations and Groups
Joining relevant associations and groups is a smart way for web developers to network, learn, and grow their business.
Local Associations
Look into developer groups like the Local Chamber of Commerce chapters to connect locally. Attending association events gets you face time with peers and potential clients.
Consider joining broader professional groups like the National Association of Professional Developers for wider reach and resources. Memberships start around $100/year.
Local Meetups
Attend technology meetups and conferences to gain insider knowledge. Use sites like Meetup to find regular events like Startup Grind and networking happy hours. Bring business cards and actively participate. The connections made can be invaluable.
Facebook Groups
Facebook communities create space for global collaboration. Join popular groups like Women+ in Web Development and Business Owners Networking Daily to exchange ideas. Promote your services and products tactfully within relevant groups.
13. How to Market a Web Development Business
Implementing an ongoing marketing strategy is essential for web development companies to continually attract new clients. While numerous approaches exist, focus on your network and digital channels to build momentum.
Personal Networking
Start by tapping your inner circle. Satisfied clients who endorse you to their connections are invaluable. Deliver exceptional service, then politely ask happy customers to review your work online and refer others in need of a web developer. Offer incentives like 10% off their next project. Word-of-mouth referrals are marketing gold.
Digital Marketing
Digital marketing enables scalable lead generation with detailed targeting options. Effective online tactics include:
Search ads – Bid on relevant keywords with Google Ads to appear at the top of search results. Target local prospects like "Miami web design agency".
Social media ads – Run Facebook and Instagram ads promoting your services. Target by location, interests, job titles, and more.
Content marketing – Create a web development blog sharing your expertise. Promote posts through social media and email.
SEO optimization – Optimize pages with keywords, high-quality content, and technical enhancements to rank higher in organic search results.
Retargeting ads – Serve targeted ads across the web to visitors who left your website to compel them back.
Email marketing – Send professional newsletters and project update emails to build engagement. Offer eBooks or tips to nurture leads.
Social media – Post regularly on all relevant social platforms like Facebook, LinkedIn, and Twitter. Respond promptly to inquiries.
Traditional Marketing
Traditional tactics like direct mail and radio ads can work but typically don't provide the same ROI. Consider:
Direct mailers – Target local businesses with postcards or flyers detailing your services. Include a discount offer.
Print ads – Local magazines and industry trade publications may offer affordable ad placements.
Billboards – Place a branded billboard along a heavily trafficked thoroughfare. Most effective for brand awareness over direct response.
Radio ads – Local radio ads can reach broader audiences, especially drivers during peak commute times.
The digital realm is the web developer's home turf. Focus your marketing efforts online and within your network. Then allocate smaller budgets to test traditional channels as supplements to maximize visibility.
14. Focus on the Customer
Providing exceptional customer service is crucial for web developers to earn repeat business and referrals. Given the plethora of options clients have, customer experience is a key competitive advantage. Some ways to increase customer focus in your own web development company include:
Focus on understanding each client's unique needs and challenges.
Don't push cookie-cutter solutions – craft thoughtful recommendations tailored to their goals.
Ask insightful questions and actively listen to build rapport.
Deliver projects on time and budget. For any delays or changes needed, over-communicate to set proper expectations. Transparency builds trust.
Make yourself available to support clients before, during, and after project completion. Be responsive over email, phone, and even online chat.
Answer their questions promptly and resolve any issues ASAP.
Following up proactively also strengthens relationships. Check-in periodically to see if they need help updating or enhancing their site. Offer optimization tips.
When you exceed expectations consistently, satisfied clients are eager to recommend you.
Net Promoter Scores show an average customer who refers 5 new ones. This organic growth can turbocharge your business.
Web development is a service business. By crafting phenomenal customer experiences, you reap the referrals and repeat sales to prosper. Make service a priority, not an afterthought.