The global credit card processing business market is on the rise. Starting at $510.87 billion in 2022, the market could reach $884.36 billion by 2030 with a compound annual growth rate (CAGR) of 7.10% from 2022 to 2030.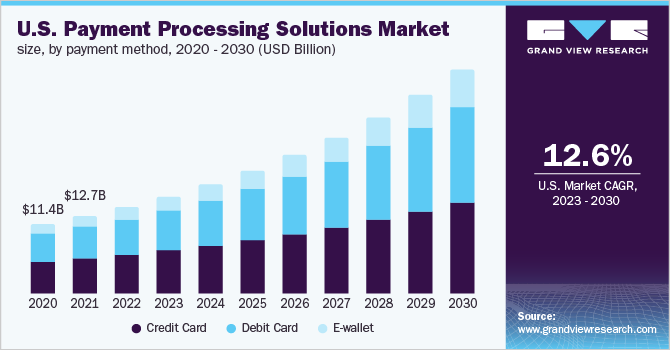 This guide will walk you through how to start a credit card processing business. Topics include market research, marketing, competitive analysis, registering an EIN, obtaining business insurance, and more.
Ready to dip your toe in the trillion-dollar payments industry? Keep reading this comprehensive guide on how to start a successful credit card processing business.
1. Conduct Credit Card Processing Market Research
Market research is an important part of starting a credit card payments company and developing a solid business plan. Market research offers insight into your target market, trends for sourcing credit card payment processor equipment, top social media outlets, and more.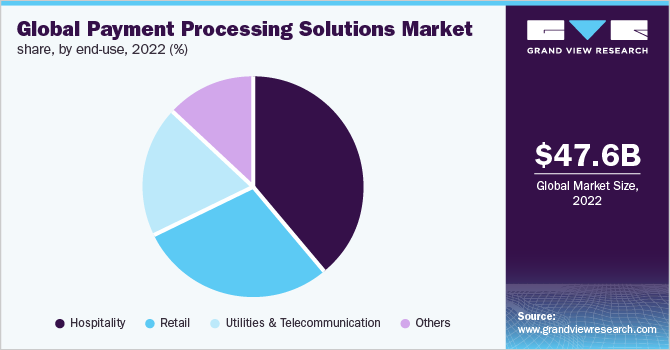 Some details you'll learn through market research as a merchant services provider include:
The market is highly fragmented, with over 3,000 ISOs competing for business.
The largest processors only account for 25% of the market, leaving ample room for small players to carve out a niche.
Focusing on an underserved segment like online businesses or targeting a specific region can help you compete.
Startup costs are relatively low compared to the potential rewards.
Equipment like credit card terminals will be an additional expense.
his interchange fee is typically 1-3% of the total purchase amount.
With the average transaction size being around $60, those percentages add up fast.
Experts estimate you can realistically earn $10,000 to $30,000 per month in residuals.
Success hinges on your ability to sign new merchants and retain existing ones.
Investing in tools like a CRM platform is highly recommended.
Residual income from credit card processing is extremely stable since merchants tend to stick with their processors for years.
If you have an entrepreneurial spirit and the drive to build a book of business over time, credit card processing can be an extremely lucrative endeavor. The infrastructure and opportunities are in place—you just need to put in the work.
2. Analyze the Competition
Joining the ranks of over 3,000 ISOs, competition is fierce among credit card processing companies. Thoroughly analyzing your rivals is crucial to finding a profitable niche in the merchant services industry. Knowing about other payment processing companies helps you stand out in the credit card processing industry.
Some ways to learn more about competitive credit card processing services include:
For brick-and-mortar ventures, identify processors with a local presence by directly contacting merchants or even walking business districts and noting point-of-sale systems.
Nationwide processors like Square and PayPal should also be on your competitive radar.
For e-commerce merchants specifically, look at who dominates that space.
Stripe and Braintree lead for online payments, so consider if you can beat their rates or offer unique advantages like faster funding times or flexible underwriting.
Vet potential competitors online to gauge their positioning and messaging.
Study their websites to analyze services offered, ideal customers described, and any unique selling points touted like proprietary technology or security features.
Pay attention to SEO elements like meta descriptions and backlinks to assess search visibility and domain authority.
Social media monitoring is another free way to benchmark competitors.
Look at engagement levels, follower count, content types, and thought leadership positioning. This can reveal what's resonating in the market.
By dedicating time to analyzing the competition on multiple fronts, you gain crucial intel to spark strategic breakthroughs and catapult ahead of other ISOs.
3. Costs to Start a Credit Card Processing Business
When starting a credit card processing company, the initial investment is relatively low compared to other small business ventures. By partnering with an established payment gateway as an ISO, you avoid the high costs of building your payment processing company infrastructure.
Start-Up Costs
Registration Fees – To become an ISO, you'll pay an application fee, licensing fees, and fees per each merchant account you're approved to board. These costs typically range from $2,000-$5,000.
Equipment – Most merchants will use your company's credit card terminals or POS systems. Basic terminals start around $200. More advanced touchscreen POS systems will cost $800-$1,200. Plan to buy 5-10 terminals initially.
Office Supplies – Budget $500-$1,000 upfront for a computer, printer, paper, pens, business cards, brochures, and other basic office supplies.
Accounting Software – A good accounting system will run you around $200 per month. QuickBooks is a popular choice. Factor in $2,400 for your first year.
Phone & Internet – Since you'll be service-based, expect monthly costs of $100 for basic phone service and $50 for reliable high-speed internet.
Website – A simple informational website for your business can be built for $2,000-$5,000. Factor in website hosting fees of around $25 per month.
Insurance – Liability insurance for E&O coverage will cost approximately $1,200 per year.
Ongoing Costs
Gateway Fees – These average around $25 per merchant account, depending on transaction volume.
Interchange Fees – Approximately 0.05% – 0.15% of each transaction amount goes to the card networks.
Accounting Fees – Expect to pay an accountant $100-$200 per month for bookkeeping and financial statements.
Annual Audit – If processing over $1 million annually, processors require an independent audit costing $3,000-$5,000.
Office Rent – Leasing a small office space will cost around $600 per month minimum.
Salaries – While initially a one-person show, plan to pay a full-time sales rep $40,000-$60,000 as you grow.
Marketing – Count on a monthly budget of around $1,000 for advertising, promotions, and networking events.
By planning for these costs upfront and accounting for ongoing monthly/annual expenses, you can launch your credit card processing company in a financially prudent manner. Adjust budgets as needed when starting out and as your client roster expands.
4. Form a Legal Business Entity
When starting a credit card processing company, one of the first legal steps is choosing a business structure. The four main options each have advantages and disadvantages to weigh.
Sole Proprietorship
A sole proprietorship is the simplest and most affordable route, requiring only a business license. However, there is unlimited personal liability, leaving your assets at risk if sued. Difficult to bring on investors or employees later.
Partnership
Partnerships allow multiple owners to share resources and liability. But unless set up as a limited partnership, each of the business partners is fully responsible for debts and liabilities incurred. Messy to dissolve partnerships if desired.
Corporation
A corporation provides limited liability protection and allows selling stocks to raise funds. However, corporations are complex with more paperwork, formalities, and double taxation of profits. Significant upfront legal fees to incorporate.
Limited Liability Company (LLC)
For most credit card processors, an LLC (limited liability company) offers the best of all worlds. It limits personal liability similar to a corporation but with fewer formalities and regulations. Profits pass directly to owners avoiding corporate double taxation. Easy to add members as you expand. Relatively quick and cheap to establish an LLC.
5. Register Your Business For Taxes
One key legal task when starting a processing company is obtaining an EIN, or Employer Identification Number. This unique 9-digit number identifies your business entity with the IRS and is required to open business bank accounts, apply for licenses, and hire employees later on.
Thankfully the process is quick and free directly through the IRS website. Here are the simple steps:
Navigate to the EIN Assistant page on IRS.gov. This wizard will guide you through each question to complete Form SS-4.
Select your business structure and input basic information like name and address.
When asked the reason for applying, choose "Started a new business."
For the question "Do you have employees?" you can select "No" when just starting. This can be updated later if you hire staff.
Carefully review the summary page and submit your EIN application.
That's it! The EIN will instantly be displayed on the final confirmation screen. The IRS will also email a PDF of your EIN assignment notice.
Be sure to print and save this official notice. You'll need to provide the EIN when opening business bank accounts and submitting applications.
You'll also need to register with your Secretary of State's office to obtain state tax IDs for reporting sales tax. Fees are typically under $100.
6. Setup Your Accounting
Proper accounting is crucial in the payments industry to track client contracts, stay compliant, and maximize write-offs. Investing in tools and support provides stability as you scale.
Accounting Software
Using dedicated small business accounting software like QuickBooks allows you to generate financial statements, issue client invoices, accept payments, and more in one streamlined platform. Integration with bank accounts, credit cards, and processors keeps everything synced automatically. The cost starts at around $15/month.
Hire an Accountant
While the software does the heavy lifting, partnering with an accountant provides expertise no algorithm can replace. A qualified accountant handles bookkeeping, reconciliation, and quarterly sales tax filings, and advises on tax deductions. Expect to invest around $200 per month for these services.
Open a Business Bank Account
Keeping business and personal finances completely separate is key. Get a dedicated business checking account and credit card solely for company use. Never co-mingle funds or pay yourself from a business account.
Apply for a Business Credit Card
Applying for a business credit card requires your company's information like business name, EIN, and estimated card revenue. Issuers often provide higher limits since balances are tied to the business entity.
7. Obtain Licenses and Permits
Before taking payments, every processor must be compliant with federal and state regulations by acquiring the proper credentials. Find federal license information through the U.S. Small Business Administration. The SBA also offers a local search tool for state and city requirements.
At the federal level, registering as an ISO (Independent Sales Organization) is mandatory. This requires an application with the MATCH registry that costs around $1,500 initially. Vetting ensures you meet standards for ethics, experience, and net worth. Once approved, you can move forward legally selling merchant services as an agent of your partner payment gateway.
Operating across state lines also requires a license as a money transmitter. Fees range from $0-$5,000 depending on your state. This ensures you meet bond requirements and pass background checks for handling client funds.
Check if your city or county requires any local business licenses. These may simply involve a form and a nominal fee under $100. Failing to register can still result in penalties.
Your client mix will determine additional needs. Selling specifically to high-risk merchants like CBD retailers or cryptocurrency traders requires special registration with the major card brands. There are also industry-specific permits like liquor licenses if your clients are bars or restaurants. Don't just assume you are covered.
Partner with an attorney to conduct a thorough analysis of federal, state, local, and industry requirements. They can ensure you complete each registration, accurately represent your services in contracts, and stay compliant as laws evolve.
8. Get Business Insurance
Operating any business without proper insurance opens the door to financial ruin. For credit card processors, the right policies provide a safety net against lawsuits, theft, property damage, and other worst-case scenarios.
Imagine a data breach exposing thousands of customers' payment information. The legal claims and fines alone could crush an uninsured small business. Or a fire destroys your office and equipment. Or an employee commits fraud.
In each disaster scenario, adequate insurance softens the blow and protects your livelihood. The right coverage may include general liability, commercial property, E&O, worker's compensation, commercial auto, and cyber insurance.
The process starts by taking inventory of potential risks based on your operations. Work with a qualified insurance agent to review needs and get quotes. Expect budgeting at least 2-4% of revenue for premiums.
Here are the step-by-step basics to get insured:
Research and request quotes from providers like The Hartford.
Review options with an agent to select optimal coverage and limits.
Complete applications accurately detailing your business activities, assets, security protocols, and other factors that determine premiums.
Pay your policy premium to activate coverage. Be sure to get proof of insurance documents.
Add any new assets like equipment or property to the policy as your business evolves.
Don't let the cost of insurance convince you to change it. One catastrophic incident without coverage can permanently close your doors. Protect your livelihood through a prudent amount of risk transfer.
9. Create an Office Space
While launching from your kitchen table is possible, having a professional office lends credibility and efficiency as your processor business grows. The right space reduces distractions, impresses clients, and allows room for staff.
Home Office
A basic home office works initially if zoning allows. Expect costs under $100 for a desk and supplies. However, working where you live has downsides like distraction and lack of collaboration. Meetings with clients at your residence may also feel unprofessional.
Coworking Office
For around $200-500 per month, a coworking space like WeWork provides amenities, networking, and legitimacy. Common spaces allow client meetings and events. Downsides include noise and lack of privacy.
Retail Office
If securing retail outlets or restaurants as clients, a small storefront could project the right image. Renting a vacant space may run $1,000 or more monthly. Use for meetings but avoid extensive renovations.
Commercial Office
Eventually leasing traditional office space creates room for employees without cramping your home. Basic commercial spaces start around $1,000 per month including utilities. Opt for flexible short-term leases at first to control costs.
10. Source Your Equipment
A credit card processor's essential tools are their payment terminals and point-of-sale systems. Here are the top options to acquire the necessary equipment affordably.
Buy New
Buying brand-new terminals allows customizing features but is pricier. Basic terminals start around $200 from vendors like POSGuys. Higher-end wireless and NFC-enabled units cost $500. New touchscreen POS systems run $1,200.
Buy Used
Purchasing used equipment saves substantially. Check online marketplaces like Craigslist and Facebook Marketplace for local sellers offering gently used terminals and POS systems. Expect to pay 25-50% less than new. Inspect thoroughly before purchasing.
Rent
Renting terminals offers flexibility for seasonal businesses. Terminal suppliers like Payment Depot allow 6 or 12-month rentals around $25/month. However, limited control over the model and features. No equity earned, unlike buying.
Lease
Leasing through your processor provides quality equipment with no large upfront cost. But you are locked into their offered hardware. Monthly fees of around $40 per terminal are automatically deducted from sales. Ownership only after the entire lease is paid off.
11. Establish Your Brand Assets
Crafting a strong brand identity is crucial for credit card processors to stand out from the thousands of competitors. A polished and professional image inspires trust in potential merchant clients.
Get a Business Phone Number
Start by securing a dedicated business phone line through a provider like RingCentral. Choose a local number and set up a custom greeting. This gives you credibility and separates personal and work calls.
Design a Logo
Design a sleek logo and visual assets that represent your positioning. Consider an abstract mark or icon-style logo that is versatile and memorable. Use a site like Looka to create options.
Print Business Cards
Make sure your color palette, fonts, and graphic elements align across a business card, letterhead, website, signage, and other touchpoints. This consistency boosts recognition.
Order professional business cards showcasing your logo from Vistaprint. Always have cards ready to leave after client meetings, trade shows, and networking events. Signage displaying your brand also builds awareness.
Get a Domain Name
Register a domain name that matches your business for legitimacy. Choose a .com over alternatives and make it short and simple to recall. Use Namecheap for secure and affordable registration.
Design a Website
For your website, weigh using a DIY builder like Wix versus hiring a freelancer on Fiverr. With a drag-and-drop site builder, you control the process from start to finish. However, hiring a web designer allows a site tailored to your vision and target audience.
12. Join Associations and Groups
Joining your local community of payment professionals provides invaluable connections and insights as a new credit card processor. Take advantage of these networking opportunities.
Local Associations
Check for local chapters of groups like the Electronic Transactions Association which hosts events, lobbies for the industry, and connects members. The ETA has over 500 corporate members including major processors and ISOs.
Local Meetups
Scour sites like Meetup for local meetups focused on e-commerce, small business, and financial services. Swapping stories with like-minded entrepreneurs creates camaraderie and potential partnerships.
Facebook Groups
Expand your network by joining online communities. The 2,000-member Merchant Services Professionals Facebook group provides market insights and troubleshooting tips from fellow processors.
Surrounding yourself with supportive peers provides morale, knowledge, and connections. Be proactive in attending local events, introducing yourself, and exchanging contact info.
13. How to Market a Credit Card Processing Business
Marketing is paramount for any new credit card processor to attract and retain merchant clients in a competitive industry. Leverage these digital and traditional tactics to get your brand in front of prospective customers.
Personal Networking
Start by tapping your existing network and requesting referrals. Offer incentives for current clients to recommend your exemplary service to other business owners they know. Satisfied customers provide powerful word-of-mouth marketing.
Digital Marketing
For online visibility, ensure your website is optimized for keywords like "credit card processing" and "merchant services." Quality content and backlinks will improve search rankings and traffic.
Run Google Ads campaigns targeting business owners in your area to direct qualified prospects to your site. Display and remarketing ads also build brand awareness.
Promote your expertise and testimonials through social media. Create a Facebook Business Page to run targeted ads. Share content on LinkedIn to establish thought leadership.
Start a YouTube channel explaining the benefits of your services through explainer videos and client testimonials. This builds trust and authority.
Send targeted emails to prospective clients you meet at networking events. Nurture leads with valuable, relevant content delivered through email marketing.
Traditional Marketing
For offline marketing, direct mail postcards to local businesses enable showcasing your brand. Include a special offer to incentivize contacting your company.
Print brochures and flyers to have on hand at in-person meetings, trade shows, and conferences. Highlight your unique value proposition.
Billboards near business parks and commercial areas provide 24/7 impressions. Consider vibrant designs with a memorable tagline.
Radio ads on local business-focused stations reinforce your brand and messaging through repetition in the car.
Evaluate campaign performance and double down on what works best. Lean on digital marketing but don't rule out traditional tactics completely for an omnichannel approach.
14. Focus on the Customer
Providing exceptional customer service is crucial for any payment processor to retain clients and earn referrals in a crowded industry. Going above and beyond builds loyalty.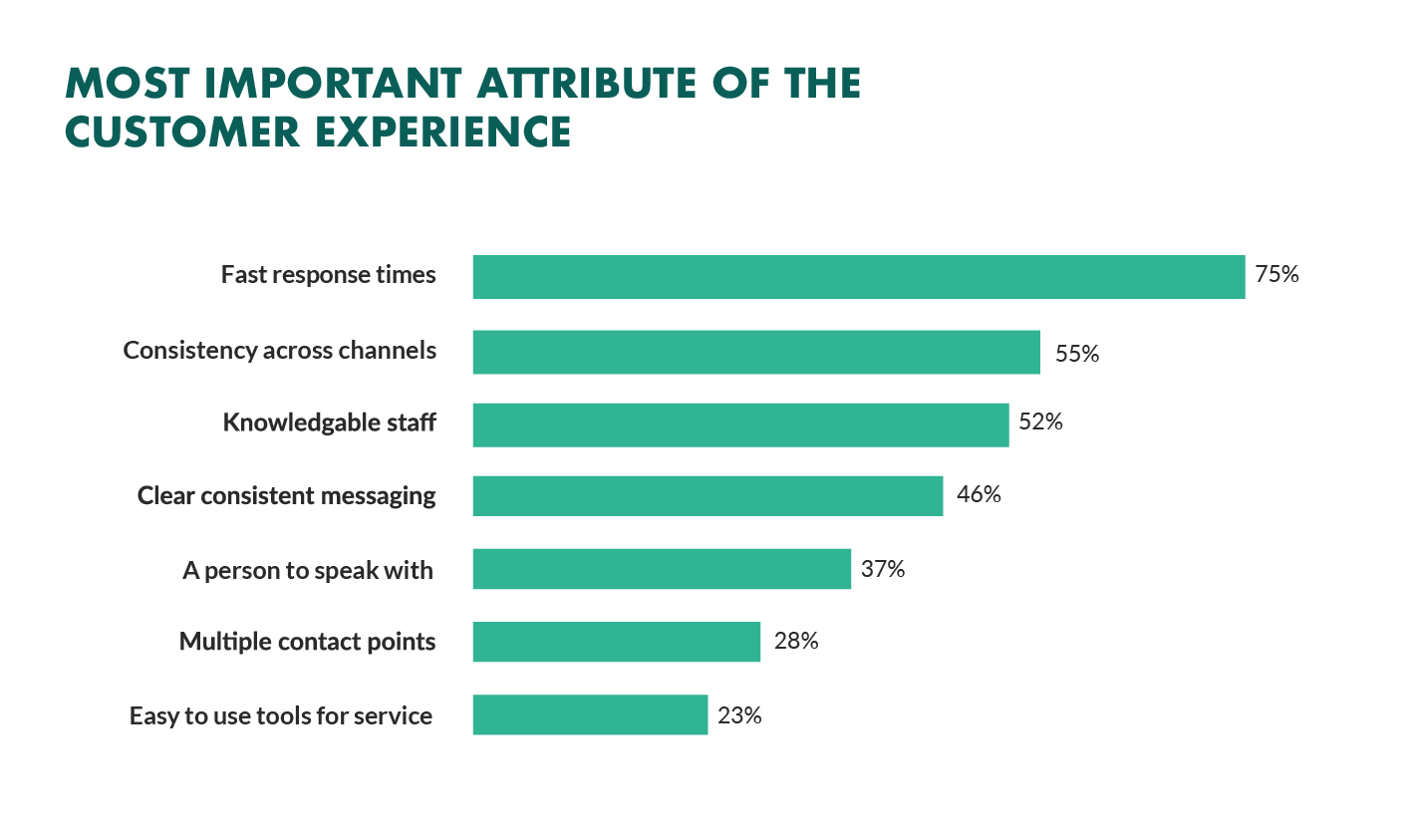 Some ways to increase customer focus as you accept credit card payments include:
Respond to merchant inquiries promptly, ideally within 30 minutes during business hours. Set reminders to follow up if issues require more time or research.
Show empathy when clients vent frustrations. Saying "I understand this is creating headaches for your business and I'll do everything I can to fix it immediately" de-escalates tense situations.
Surprise and delight merchant accounts with periodic gestures to show you care. Send a Starbucks e-gift card on their anniversary of signing up or mail a handwritten holiday card each December.
Reward referrals from satisfied clients with incentives like account credits, gift cards, or early termination fee waivers if they switch providers.
Proactively alert merchants to new features like contactless payment support that could benefit their business. Position yourself as an advisor, not just a vendor.
By providing white-glove service and valuable expertise beyond processing transactions, you become an indispensable partner rather than a replaceable supplier. Merchants will gladly recommend your exemplary support to other business owners, fueling referrals and reviews that propel steady growth.