The gift card industry hit an all-time high in 2021, with total global gift card spending reaching $318 billion. This ever-growing market represents a massive opportunity for aspiring entrepreneurs looking to tap into the lucrative gift card space. How do you market and sell them?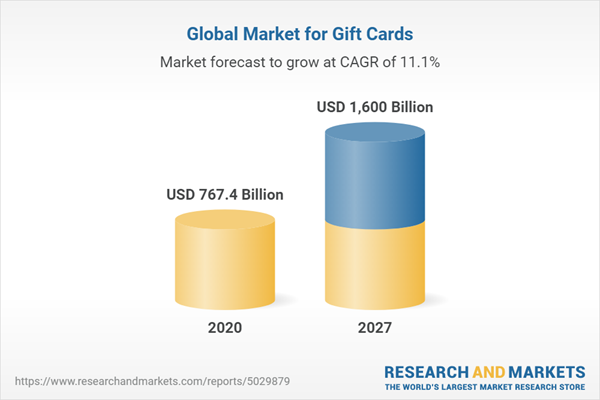 This comprehensive guide will walk you through the entire process of how to start a gift card business. You'll learn tips on market research, registering an EIN, opening a business bank account, obtaining gift card business insurance, and more. Here's everything you need to know to start your own gift card company.
1. Conduct Gift Card Market Research
Market research is an important step in any gift card program. It offers insight into your target market, local market saturation, and trends in physical gift cards and promotional gift cards, among other invaluable details.
Several factors are driving this rapid growth:
Gift cards have become more popular as gifts. 61% of gift card recipients prefer to receive gift cards over merchandise.
Retailers promote gift cards heavily, especially during the holidays. Gift card sales in November and December account for 50% of annual gift card sales.
More types of businesses now offer gift cards, including restaurants, hotels, airlines, and online services. This expands the gift card market.
Prepaid and reloadable gift cards are now used commonly for personal spending. This generates ongoing revenue for gift card companies.
The market is divided into open-loop gift cards that can be spent anywhere like Visa or Mastercard, and closed-loop that are for specific merchants.
Closed-loop cards make up 80% of gift card sales according to Mercator Advisory Group.
With the growth in e-commerce, digital gift cards are also gaining share over physical cards.
Digital gift cards allow for personalized designs and deliver instant gifting options.
The gift card industry is highly fragmented, with many small companies competing. The largest player is Blackhawk Network with a 12% market share. This presents an opportunity for new entrants to establish niche offerings and gain share.
2. Analyze the Competition
A thorough competitive analysis is crucial when building a successful gift card program. This will help you identify strategic gaps in the plastic gift card market and position your new business competitively.
Some ways to get to know competition in small business gift cards include:
For online gift card companies, review your competitors' websites and social media presence.
Look for the ways different companies sell gift cards and allow customers to redeem gift cards.
Analyze their product selection, design aesthetics, payment options, shipping costs, and customer service.
Use tools like Alexa to understand their web traffic and search ranking.
You can gain insights into their customer demographics and brand reputation through social media monitoring tools like Mention.
Evaluate both larger established brands and smaller niche players. Compare their pricing, promotions, partnerships, and positioning to find opportunities to differentiate.
Monitor consumer reviews across channels to identify strengths to emulate and weaknesses to avoid.
If launching a local physical gift card business, audit competitors in your geographic area. Visit brick-and-mortar locations and act as a secret shopper.
Assess store ambiance, product displays, staff friendliness, and product/brand selection. This will give you an insider view into their customer experience.
You can also analyze local competitor's online presence, social media, and reviews.
Search directory listings like Yellow Pages to compile a database of local players.
Drive-by assessments of store traffic can provide clues to their sales volumes.
By comprehensively analyzing both online and offline competitors, you can make informed decisions about your pricing, partnerships, and inventory for your gift card programs. It also helps set realistic sales projections based on insights into existing consumer demand and industry benchmarks.
3. Costs to Start a Gift Card Business
Starting a gift card business involves both initial investments and ongoing operating expenses. Carefully estimating these costs is important for securing funding, setting prices, and ensuring profitability.
Start-Up Costs
Business registration and licensing – $50 to $500+ depending on location and business structure
Professional services – $1000 to $5000 for legal fees, accounting, and consulting to establish the business
Website design and development – $5000 to $15,000+ for a custom e-commerce site and gift card management platform
Graphic design – $500 to $2000 for branding, logo, and gift card designs
Initial gift card inventory – $10,000 to $100,000 depending on variety and volume. Some vendors require minimum first orders.
Card printing equipment – $300 to $1000 for a quality color printer, specialty card printer $5000+
Office equipment – $1000 to $5000 for a computer, phones, basic furnishings
Point of sale system – $1000 to $5000 for POS software and hardware
Payment processing set-up – $200 to $500 for merchant gateway accounts
Marketing launch budget – $1000 to $5000+ for initial brand awareness campaigns
First months' rent and security deposit – $2000 to $10,000+ depending on location
Initial employee salaries – $2000 to $5000+ per month for first hires
Insurance – $1000/year for business liability and errors and omissions coverage
Ongoing Costs
Employee salaries and benefits – Depending on staff size, $4000+/month
Merchant transaction fees – 1% to 5% of gift card sale revenue
Card inventory replenishment – Variable, can be $5000+ per month depending on sales
Marketing and advertising – $500 to $5000+ per month, higher for growth periods
Rent and utilities – $1000 to $5000+ per month depending on location
Accounting services – $200 to $1000+ per month
Payment processing fees – Around 2% to 3% of revenues
Insurance – $1000+ annually
Miscellaneous supplies and expenses
Additional costs may include gift card rack displays, customer loyalty programs, and financing/capital expenses if expanding. Ongoing profitability analysis by channel, product line, and customer segment is key.
4. Form a Legal Business Entity
When starting a gift card business, one of the most important legal decisions is choosing your business structure. The four main options each have pros and cons to weigh.
Sole Proprietorship
A sole proprietorship is the simplest structure. You operate as an individual with pass-through taxes. However, you have unlimited personal liability for debts and lawsuits. This risky exposure makes a sole proprietorship inadvisable for a gift card company handling substantial customer payments.
Partnership
Forming a general partnership splits ownership between partners. You still have pass-through taxation and flexibility in management. However, each partner is jointly liable for the actions of the other partners. Disagreements can also arise in decisions. This lack of protection limits partnerships for gift card businesses.
Limited Liability Company (LLC)
Establishing a Limited Liability Company (LLC) combines pass-through taxes with liability protection for owners. Owners have limited liability for company actions and debts. An LLC limits financial risks for gift card companies handling customer data and payments. This makes it a suitable choice to start.
Corporation
Creating a corporation shields owners from liability and allows selling stocks for investment. However, corporations face double taxation on profits. There are also extensive recordkeeping and reporting requirements. This structure can work for large gift card companies seeking outside investment.
5. Register Your Business For Taxes
One of the first legal steps in starting a gift card company is obtaining an Employer Identification Number (EIN) from the IRS. This unique identifier is required to operate your business, hire employees, open business bank accounts, and file taxes.
The EIN application process is fast and free through the IRS website. Simply navigate to Irs.gov and click "Apply Online Now" under the EIN Assistant. You'll need to create an account and have some basic business information handy.
The online questionnaire will request your name, address, social security number, and details about your LLC or corporation structure. It takes less than 10 minutes to complete. At the end, you'll receive your EIN immediately on the screen.
Be sure to print and save this assignment letter for your records. You'll need your EIN handy when taking steps like opening business bank accounts and registering for state taxes.
Speaking of state taxes, you'll also need to register with your state revenue or taxation department for sales tax collection. This enables you to legally collect and remit sales taxes on gift card purchases.
The process varies by state but typically involves an online application with details on your business activities and locations. There are no fees to register but you may need to file monthly or quarterly tax returns. This keeps your business compliant as you start selling gift cards.
6. Setup Your Accounting
As a gift card entrepreneur, meticulous accounting right from the start is crucial for success. Proper bookkeeping and financial processes will help you manage cash flow, remain IRS-compliant, secure financing, and scale intelligently.
Accounting Software
Early on, it's wise to invest in small business accounting software like QuickBooks. This allows you to efficiently track income, expenses, inventory, and taxes, and generate financial reports. QuickBooks seamlessly connects to your business bank accounts and credit cards for automated data entry and reconciliation.
Hire an Accountant
Hiring an accountant provides expertise to ensure your books are audit-ready. They can handle tasks like payroll, quarterly taxes, and compiling fiscal year financial statements. Expect to invest around $200-$500 monthly for bookkeeping and $1000-$3000 for annual taxes/filings. If audited, an accountant helps navigate requests and amendments.
Open a Business Bank Account
For clean accounting, keep business finances 100% separate from personal. Open dedicated business checking/savings accounts and apply for a business credit card. Issuers like Capital One look at years in business, revenues, and personal credit for approval. A business card builds credibility and keeps expenses separate.
7. Obtain Licenses and Permits
Before launching your gift card company, it's crucial to ensure you have all required state and local licenses and permits. Find federal license information through the U.S. Business Administration. The SBA also has a local search tool for state requirements.
Depending on your location and business activities, some common licenses and permits may include:
A general business licenseIRS-compliant is required in most states to legally operate. This involves submitting a registration application and paying a nominal fee to your county or city. It validates basic business information to get started.
A reseller permit allows purchasing wholesale gift cards tax-free to charge sales tax on retail sales. Wholesaler exemption requirements vary but usually involve proof of a business license.
A sales tax license for collecting and reporting state sales tax on gift card transactions. You'll need to integrate sales tax calculations into your POS system and remit payments.
An occupational business license if you operate a physical gift card store. Your local municipality regulates business occupancy and location-specific requirements.
A food handler permits if selling gift cards is redeemable for restaurants. State health departments require this certification for safe food-related operations.
A lottery license for any sweepstakes, contests, or gift card giveaways used in promotions. State lottery commissions regulate this type of marketing activity.
Third-party payment processor licenses to enable accepting credit cards. Providers like Stripe facilitate applications for money transmitter licenses.
8. Get Business Insurance
Business insurance is highly recommended to protect your gift card venture from unexpected risks. Without proper coverage, a single incident could lead to substantial losses or even company failure.
For example, a cyber attack could compromise thousands of customers' payment data. Or a natural disaster might destroy your office and inventory. You could also face lawsuits from unhappy customers or injured employees.
The right insurance policies mitigate these threats. Common options include general liability, commercial property, errors and omissions, workers comp, and cyber insurance. Each covers specific hazards a gift card business faces. Together they provide comprehensive protection.
The process of obtaining business insurance involves:
Researching plans and costs from providers like The Hartford.
Select applicable coverage types and desired claim limits based on your operations.
Completing a detailed application with your business information.
Paying monthly or annual premiums. Policies often renew automatically annually.
Though not legally required, business insurance should be a top priority. Shop plans that balance premiums with strong coverage. With policies in place, you can rest easier knowing your gift card company has a financial safety net.
9. Create an Office Space
Having a dedicated office provides a professional home base for your gift card company. It gives you space for inventory storage, production, meetings, phone calls, shipping, and administrative work.
Home Office
Operating from a home office is the most cost-effective starting. Expect to invest around $500-$2000 to set up a basic workspace with furnishings, computer, printer, supplies, etc. This allows bootstrapping the business while getting established.
Coworking Office
As you begin hiring staff, consider a coworking space like WeWork. Shared amenities and conference rooms facilitate collaboration. Expect to pay around $200-$500 monthly per desk for a flexible coworking plan. This also provides networking with other entrepreneurs.
Retail Office
If launching a brick-and-mortar gift card shop, a retail office space is necessary. Renting a storefront involves long-term leases of 1-5+ years at $1,000-$5,000+ monthly. Ensure sufficient customer traffic and space for displays and inventory.
Commercial Office
For larger gift card brands, a commercial office space provides room for significant inventory, production lines, photography studios, and expanding teams. Leasing Class A office space ranges from $3,000-$10,000 monthly depending on location and amenities.
10. Source Your Equipment
Launching a gift card company requires acquiring key equipment like card printers, POS systems, and office furniture. Smart sourcing saves money and gets you set up faster.
Buy New
Buying new provides modern equipment under warranty but is pricier. Specialty vendors offer commercial-grade card printers starting at around $1000. New POS systems run $500 from vendors like Clover.
Buy Used
Purchasing quality used equipment can significantly reduce costs. Check auction sites like eBay and GovDeals for discounted commercial printers and POS systems. Expect 50-75% savings versus new.
Facebook Marketplace and Craigslist also list locally used office furniture and supplies at affordable prices from other businesses. Be sure to test equipment quality before purchasing.
Renting
Renting equipment provides short-term flexibility while getting started. Printer and POS system rentals run $50-$200 monthly. Sites like Rentacomputer facilitate online rental transactions.
Leasing
Leasing lets you pay small monthly fees to use equipment long-term, upgrading when needed. Providers like MPO offer 24-60 month leases on printers, POS systems, and software.
11. Establish Your Brand Assets
Developing a strong brand identity is crucial for making your gift card company memorable and recognizable. Your logo, website, collateral, and other assets should define your unique image.
Get a Business Phone Number
Securing a professional business phone line like RingCentral makes you seem established from the start. Expect to pay $20-$50 monthly for a dedicated local or toll-free number, call routing, voicemail, etc.
Design a Logo
A logo embodies your brand personality. Consider a typographic, monogram, pictorial, abstract, or mascot logo. Sites like Looka provide affordable logo design services starting around $20.
Print Business Cards
Business cards and signage like banners, vehicle wraps or storefront signs expand exposure. Order affordable, customized designs from Vistaprint. Have cards on hand for networking and sales calls.
Buy a Domain Name
Secure a domain name that matches your company for branding continuity. Aim for a .com and make it short and simple to remember. Sites like Namecheap facilitate registration for around $15 annually.
Design a Website
Building a modern company website establishes your online presence. Consider an all-in-one platform like Wix to create it yourself or hire a skilled designer on Fiverr starting around $500.
12. Join Associations and Groups
Joining relevant local groups and associations can provide invaluable connections and insights as a new gift card entrepreneur. Surrounding yourself with a strong professional network boosts your chances of success.
Local Associations
Seek out associations like the Retail Gift Card Association that provide education, networking, and industry advocacy. Memberships start at around $500 annually for gift card-focused groups. These relationships give you insider access to vendors, peers, and industry trends.
Local Meetups
Attending local meetups expands your network quickly. Use sites like Meetup to find entrepreneurs groups, small business mixers, marketing events, and fintech gatherings. Bring business cards and actively connect with fellow business owners.
Facebook Groups
Facebook also hosts insightful industry groups to join like the Gift card group. Tap into the collective knowledge of tens of thousands of gift card professionals.
13. How to Market a Gift Card Business
Marketing is crucial for raising awareness and driving sales growth as a new gift card company. A strategic combination of digital and traditional tactics is key.
Personal Networking
Leveraging your network is the most affordable starting point. Offer discounts to friends and family to generate buzz. Satisfied customers who organically rave about your service are invaluable endorsements. Offer rewards for referrals to incentivize word-of-mouth marketing.
Digital Marketing
For digital marketing:
Run Google Ads campaigns focused on gift cards and local keywords to improve search visibility.
Create Facebook ads optimized for user interests like gifts, shopping, and holidays. Retarget visitors who browse your website.
Produce helpful "how-to" videos on gifting topics for YouTube and embed them in posts on your site.
Guest posts on gift and small business blogs to expand reach and backlinks.
Create an email newsletter with gift recommendations and company updates.
Traditional Marketing
For traditional marketing:
Design postcard mailers spotlighting seasonal offers to mail locally.
Print flyers and coupons to distribute at local shops, events, and community centers.
Sponsor a local event or charity drive to get community involvement.
Run radio spots on local stations before major holidays and gifting occasions.
Provide high-value gift cards for giveaways and contests on social media.
Start by testing low-cost digital tactics while developing your brand and audience. Expand into targeted traditional marketing with proof-of-concept. Remain nimble, tracking performance and optimizing efforts for the best ROI. With persistent marketing across channels, your gift card venture can thrive.
14. Focus on the Customer
Providing exceptional customer service needs to be a top priority when starting your gift card company. How you support customers directly impacts your brand reputation and referral sales.
Some ways to improve customer focus in the custom gift cards industry include:
Respond promptly to pre-sales questions and post-purchase support needs.
Be available by phone, email, and social media. The more responsive you are, the more trusted your business will become.
Empower staff to resolve issues on the spot, like refunding defective cards or investigating declined redemptions.
Emphasize friendly service recovery that delights rather than frustrates customers.
Transaction accuracy and order fulfillment speed also matter.
Double-check card balances and incarnations, ship quickly and avoid mistakes that require rework. Earn a reputation for reliability.
Exceed expectations by including handwritten thank you notes with orders or offering courtesy discounts after service issues. These small touches get remembered.
Providing this level of customer service earns positive word-of-mouth marketing.
Satisfied buyers enthusiastically recommend you rather than competitors. This organic outreach far outpaces your advertising efforts.
Make customer service a competitive advantage right from the start. The lifetime value of happy, loyal customers who rave about you to friends cannot be overstated for a new business.