The property management industry is growing rapidly. The global market is expected to reach $37.25 billion by 2029 according to Global News Wire. As more people invest in rental properties, demand for a property management business continues to increase.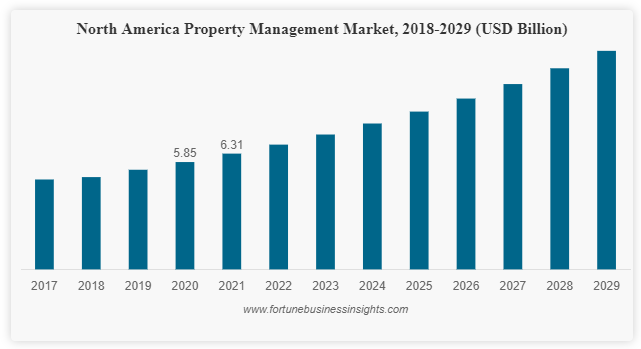 With a projected compound annual growth rate (CAGR) of 9.8% from 2022 to 2029, this is a great time to get involved. The property management business industry includes opportunities in the residential, commercial, and industrial real estate markets. This opens doors for a wide range of business options.
In this comprehensive guide, we'll walk you through how to start a property management business from the ground up. You'll learn how to register an EIN, apply for licenses and insurance, market your services, and more.
1. Conduct Property Management Market Research
Market research reveals important details about the property management industry. This data will help you craft a realistic property management business plan. Some of the details to look for in your research include:
Payscale
Services
Main competitors
Market saturation
Types of properties in the area to manage
There are two types of market research for a property management business. These are primary and secondary research.
Primary research is research you complete yourself. It involves creating client polls, visiting other property management companies, and calling prospecting clients to discuss their needs.
Secondary research involves data collected by a third party. This could be statistics from a government website, or online reviews left by competing customers.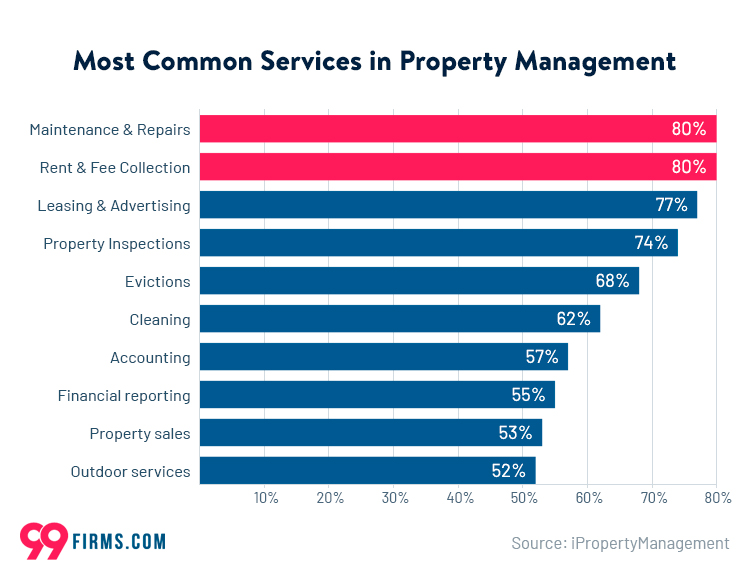 Several key factors contribute to the strength of the property management company market:
Rising home prices and tight inventory have priced many buyers out of homeownership. Renters now make up over one-third of US households, according to Pew Research Center.
The aging millennial demographic increasingly prefers renting for flexibility. Millennials are now the largest generational cohort, according to Forbes.
Strong investor activity as individuals and institutional investors acquire rental properties. Investor purchases made up 17.3% of home sales in 2021, according to Redfin.
As the rental property market expands, demand for property management services rises. Some services are time sensitive, such as:
Rent collection
Maintenance
Tenant screening
Leasing
Many look to professional property managers to handle these operational details.
2. Analyze the Competition
Thoroughly analyzing your competition is crucial when launching a property management company. Looking at competitors gives you insight into:
Services to offer
How much to charge
Where to set up shop
How to market your business
What kind of online presence do locals expect of a property manager
As a small property management company, your main competition is likely local. You can still research national and international property management companies to get ideas for the business factors above.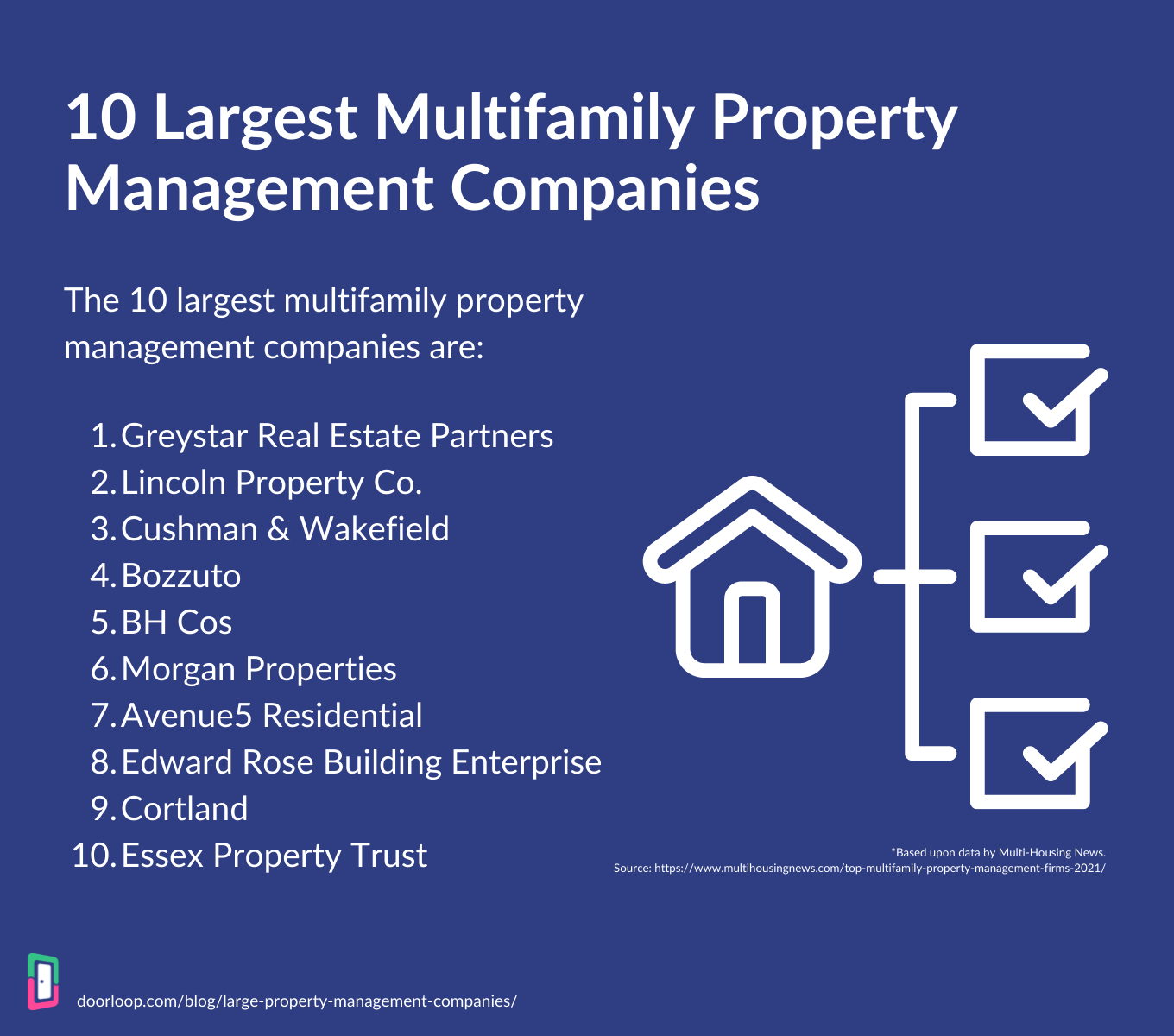 Here are a few tips to better understand local competitors.
Visit In-Person
Drive around the area and note competitor office locations. Search for property management businesses on Google Maps to see reviews, photos, and listed services. Ask yourself what niche they focus on, residential, commercial, or HOA. What amenities or programs do they promote?
Check Competitor Websites
Check property management company websites and social media pages to evaluate their online presence. This helps you identify service gaps to exploit or strengths to emulate.
Look at Online Presence and Reputation
To evaluate the competitive landscape online, search industry terms like "property management company [city]" in Google. Make note of which companies rank highest in local search results – this indicates their SEO strength. Click into their listings and ads to analyze landing pages and ad copy.
Use SimilarWeb to view monthly traffic volumes for top sites. Higher traffic indicates greater visibility and reach. Look at engagement metrics like page, sessions, and bounce rates. High bounce rates may reveal opportunities to better appeal to searcher intent.
Keep Tabs With Alerts
Set up Google Alerts on your competitors to monitor news. Watch for acquisitions, new clients, executive hires, awards, and other developments that may impact the landscape.
3. Costs to Start a Property Management Business
When starting a property management company, there are a variety of one-time start-up costs to consider. You'll also encounter ongoing monthly and annual expenses throughout the life of your property management business.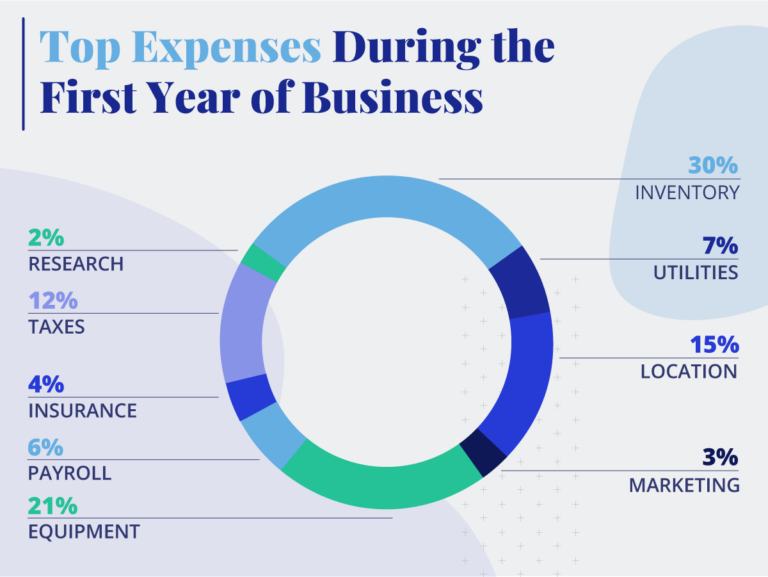 Let's take a closer look at what these costs look like and where the money goes.
Start-Up Costs
Start-up costs are expenses you encounter as you start your business. This usually involves registering the business and purchasing any initial equipment. Here's a breakdown of common property management business start-up costs.
Registration, Licensing, and Legal Fees – Expect to pay $500-$1,500 to register your business as an LLC, hire a business lawyer, and obtain necessary local licenses.
Website Development – Budget $3,000-$5,000 for an attractive, functional website to promote your services and list rental properties.
Office Supplies – Allocate around $1,000-$2,000 for computers, phones, printers, software subscriptions, furniture, and other vital office equipment.
Marketing – Plan for $2,000-$5,000 in upfront marketing spend on items like business cards, brochures, print/online ads, and website optimization.
Insurance – Obtain both General Liability Insurance (around $1,000 per year) as well as Errors & Omissions Insurance ($2,500 per year).
Lease Deposit – Expect to pay a security deposit of 1 to 2 months' rent. This could range from $3,000-$10,000 depending on location and size.
It's wise to have 3 to 6 months of operating capital available as a financial buffer. For example, if your monthly costs are projected at $10,000 per month, have $30,000 to $60,000 in working capital.
Ongoing Costs
Ongoing costs are the expenses your business encounters to continue thriving. Ongoing expenses aren't just bi-weekly or annually. They can also be one-time expenses here and there for maintenance and upkeep. Here's a breakdown of common ongoing expenses for a property management business.
Rent – For a small office, plan on a monthly rent expense of $1,000 – $3,000.
Staffing – With 2 to 3 employees to start, payroll costs could run $8,000-$12,000 per month.
Software Subscriptions – Expect to pay $100 to $300 monthly for software tools.
Utilities – Gas, electricity, internet, and phone bills for your office may cost approximately $500 to $1,000 per month.
Marketing – Budget around $500-$1,500 monthly for ongoing initiatives like Google/Facebook ads, print mailers, sponsorships, etc.
Professional Services – An accountant ($200 per month) and lawyer (as-needed) provide key support with financial management and legal issues.
Repairs & Maintenance – Budget $3,000 to $5,000 for property upkeep like plumbing leaks, appliance swaps, HVAC repairs, and landscaping.
Training – Ongoing education like seminars, courses, and certifications will run $1,000 to $2,000 annually.
Taxes – Plan for yearly business taxes and quarterly income/payroll taxes of 10% to 20% of revenue dependent on income bracket.
Insurance – Expect annual liability and E&O policy renewals costing around $3,000 to $5,000 per year.
By thoroughly estimating costs, property management entrepreneurs can realistically project cash flow needs for the first 1 to 3 years.
4. Form a Legal Business Entity
When starting a property management business, one of the first key legal decisions is choosing your business structure. The entity you form determines important factors like liability protection, taxes, and ease of setup. The main options each have pros and cons to weigh for this industry.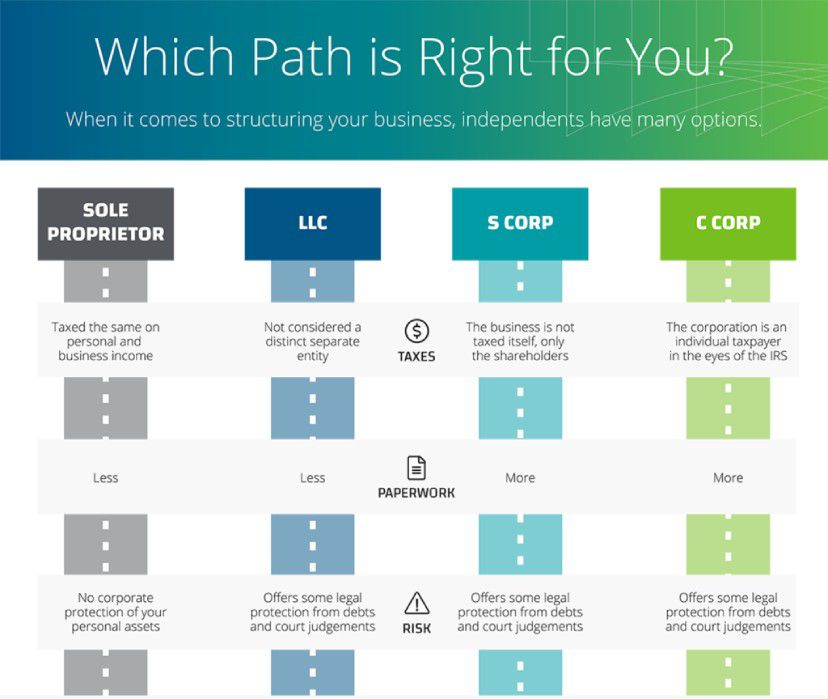 There are four business entities to choose from for a small property management company. These are sole proprietorship, partnership, corporation, and limited liability company (LLC).
Sole Proprietorship
A sole proprietorship is the simplest structure where you directly own the business as an individual. There is no legal separation between you and the company.
Pros: Easy and inexpensive to establish. No formal registration is required. You report business income/losses on your tax return. Maximum control as the sole decision maker.
Cons: You have unlimited personal liability for debts and lawsuits. All your assets are at risk if legal issues arise from tenant problems, property damage, accidents, etc.
Partnership
A partnership involves two or more co-owners sharing management and liability. Popular options are General Partnerships and Limited Partnerships.
Pros: Relatively easy to establish. Shared ownership provides the ability to raise funds and leverage partner skills.
Cons: Partners are jointly liable for each other's actions/debts. Disagreements can arise in decisions. Harder to dissolve if needed vs sole proprietorship. Still high liability risk.
Limited Liability Company (LLC)
An LLC provides liability protection for owners while allowing pass-through taxation. It limits personal risk from debts and legal judgments.
Pros: Owner assets are shielded beyond their investment. Flexible management options. Easier to attract investors than a sole proprietorship. Gains and losses pass through to owners' tax returns.
Cons: More complex to establish with registration paperwork and fees. Must follow formalities like holding meetings, keeping records, and reporting annually.
Corporation
A corporation designates the entity as legally separate from its owners. Ownership is through purchasing shares of stock.
Pros: Limited liability for owners. Additional credibility with customers. Easier to raise investment capital.
Cons: Most complex and expensive entity to set up and maintain with extensive recordkeeping. Subject to double taxation on corporate income and dividends.
For property managers, an LLC combines limited liability with a simple operating structure. It protects personal assets while allowing single-owner flexibility and pass-through taxation. Forming an LLC provides the best foundation for growth while limiting initial legal and tax burdens.
5. Register Your Business For Taxes
One important task when forming your property management is obtaining an Employer Identification Number (EIN) from the IRS. This establishes your business identity for tax purposes.
An EIN is essentially a social security number for your business. It's a unique 9-digit number that identifies your company and allows you to open business bank accounts, apply for licenses, hire employees, and file taxes.
Applying for an EIN is free and can be done online via the IRS website in just a few minutes:
Apply for an EIN Online
To obtain your EIN:
Navigate to the EIN Assistant and select Apply Online
Answer basic questions about your LLC – name, address, ownership structure, etc.
Provide owner information such as name, SSN, and DOB.
Select the reason for applying and specify Property Management as your principal business activity.
Submit the application and your EIN will be provided immediately.
In addition to your federal EIN, contact your state revenue or taxation department to obtain any required permits or licenses for collecting sales tax. Sales tax requirements vary by location, so research rules for cities/counties where you will operate.
Common licenses include a Sales & Use Tax Permit, Business License, and/or Occupational Tax License. Fees are generally minimal.
6. Setup Your Accounting
For property managers, meticulous financial tracking and accounting are needed to operate legally and profitably. With numerous transactions across multiple client properties, strong bookkeeping is required. Investing in tools and an accountant from the start provides a solid foundation.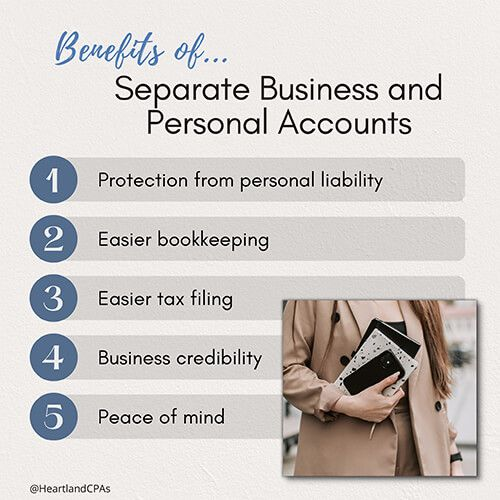 Some accounting options for property management companies include:
Accounting Software
Using dedicated small business accounting software centralizes information and automates reporting. Programs like QuickBooks integrate directly with bank/credit card accounts to import and categorize transactions. This saves tons of time vs manual entry and reduces errors.
Key features like invoicing, payroll, expense tracking, and reporting provide visibility into cash flow. Expect costs of $10-$50 per month.
Hire an Accountant
Enlisting an accountant provides expertise to ensure taxes and financial statements are handled correctly. They can advise on the optimal corporate structure and register for state/local taxes. Ongoing services an accountant provides include:
Bookkeeping – Recording income and expenses, reconciling accounts
Payroll – Calculating payroll taxes and filing required returns
Sales Taxes – Filing periodic sales tax returns
Financial Statements – Producing Profit & Loss Statements and Balance Sheets
Year-End Taxes – Filing annual business tax returns
Expect to invest around $200 to $500 per month for an accountant depending on the level of service. Additional year-end filings and tax prep could run $1,000 to $3,000 annually. However, this prevents costly IRS issues.
Open a Business Bank Account and Credit Card
Opening a dedicated business bank account and credit card keeps personal and company finances separate. Business credit cards often offer higher limits and rewards tailored for spending like advertising, office supplies, or travel. Apply with your company's EIN, address, and estimated annual revenue.
7. Obtain Licenses and Permits
A successful property management company requires appropriate licenses and permits to operate legally. Like any industry, real estate has specialized regulations at both state and local levels. Non-compliance can lead to hefty fines or inability to legally operate.
The U.S. Small Business Administration lists federal requirements for licensure online. You can also use the SBA website to search for local permit requirements. Just enter your city and zip code into the search bar.
Some common examples of property management permits and licenses include:
Real Estate Broker's License – Most states require an active real estate license to perform real estate transactions. This involves taking approved pre-licensure courses and passing an exam. Fees are typically $100-$300.
Contractor License – If providing maintenance services with your staff, a contractor license may be needed for legal liability reasons.
Lead Paint Certification – Federal EPA regulations require lead paint training to work in older housing units. The Lead Renovation, Repair, and Painting (RRP) certification class is $250.
Fair Housing Certification – Landlords and property managers must comply with fair housing laws prohibiting housing discrimination. Most states require training on protected classes, reasonable accommodations, etc.
Display all active credentials clearly on your website so prospective clients recognize your validity. Stay aware of renewal dates and changes in regulations to avoid legal issues.
8. Get Business Insurance
Given the risks inherent in real estate, obtaining adequate business insurance is wise. The right policies protect your company assets and mitigate liability from potential lawsuits or property damage.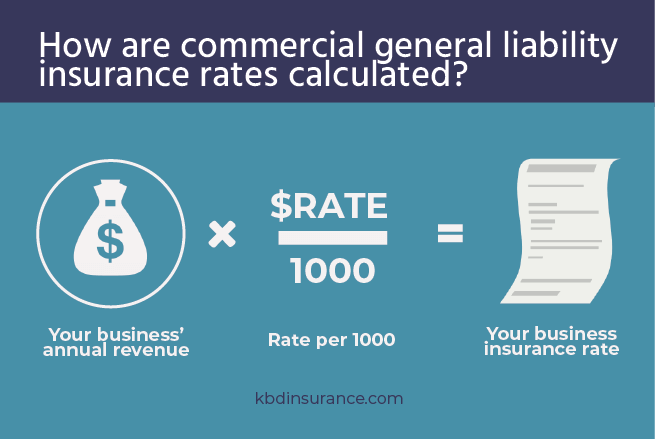 Being underinsured exposes your business to substantial financial risk. For example, without coverage, just a few situations could destroy your company:
A tenant slip-and-fall injury lawsuit awarding hundreds of thousands in damages
A burst pipe caused a flood damaging 10 properties and costing extensive repairs
A workplace injury claim from an employee leading to lost wages
To avoid catastrophic scenarios, research insurance options like General Liability, Professional Liability, Commercial Property, and Worker's Compensation.
General Liability insurance against third-party bodily injury, property damage, personal injury, and advertising injury claims. Professional Liability protects against financial loss from errors, negligence, or failure to render services.
To obtain business insurance:
Determine your risks and required coverage amounts based on properties under management.
Shop rates from leading providers like Progressive, State Farm, or Travelers via their online quotes tools.
Select a policy with sufficient coverage levels after comparing premiums.
Add supplemental coverage like E&O as your portfolio grows.
Review annually and adjust as your business evolves.
Protecting your company through adequate insurance enables confident and risk-reduced growth. Don't cut corners with substandard policies.
9. Create an Office Space
Running a property management company requires organization and efficiency. Designated office space provides a central hub for operations, meetings, and record storage. The ideal setup depends on business needs and budget. Some property management company office space options include:
Home Office
A home office offers a low-cost option for solopreneurs or small startups. Working from home removes commuting time and provides flexibility for managers who need to be on-call. Home offices also provide tax incentives. Deduct up to $1,500 per year.
Coworking Office
Coworking spaces like those offered by WeWork provide affordable private offices to share common amenities. WeWork offices start around $300 per month. You can choose between private, semi-private, and shared offices.
Shared office spaces are creative social workspaces. They allow networking with other entrepreneurs while still having a quiet dedicated room.
Retail Office
For businesses managing fewer than 10 properties, a small retail office may suffice for under $1,000 per month. Storefront visibility can attract new clients, and retail build-outs include utilities in the rent. However, retail offices limit growth as needs expand.
Commercial Office
Leasing Class B or C commercial office space is a viable option for a property management company. Basic low-rise offices typically run $1 to $2 per square foot monthly. With options for larger floorplans, conference rooms, and customized layouts, traditional office buildings offer room to scale.
10. Source Your Equipment
Launching a property management company requires the right tools. While startup costs add up, savvy entrepreneurs use a mix of new purchases, used deals, rentals, and leases to outfit their offices on a budget. Here are a few places to source your property manager equipment.
Buy New
Buying new equipment allows customizing systems but carries higher price tags. Essentials like computers, printers, phones, property management software, and office furniture can be purchased affordably at big box stores or ordered online. Shop sales events and bundles for deals on new tech and supplies.
Buy Used
Used equipment from sites like Craigslist, Facebook Marketplace, and eBay offers cost savings of 50% or more versus new. Search locally for desks, chairs, file cabinets, and the tech left behind by businesses that closed. Vet items carefully and sanitize them before use. It isn't wise to buy property management software used.
Renting
Renting equipment provides access with more flexibility. Copiers, phone systems, and specialized software can be rented every month. Events may warrant short-term rental of tools like carpet cleaners too. Rental stores like Home Depot offer convenient pickup and drop-off.
Leasing
Leasing equipment through companies finances ownership over longer periods. Items like vehicles and landscaping tools that generate revenue can be leased to preserve capital. Build lease buyouts into budgets to eventually own assets.
11. Establish Your Brand Assets
Establishing a strong brand helps you stand out and connect with your target audience. Branding conveys professionalism and trust when attracting prospective tenants and property owners. Here are a few ways to invest in your property management business brand.
Get a Business Phone Number
Acquiring a dedicated business phone number lends legitimacy and provides clients with a professional point of contact. Services like RingCentral offer customizable toll-free and local numbers with professional call-handling features like greetings and extensions.
Design a Logo
Creating a unique logo and visual identity helps differentiate your property management brand. Consider clean, simple logo styles that convey competence and reliability. Services like Looka make it easy to develop and customize an icon-based logo matching the brand vision.
Print Business Cards and Signs
Printed marketing materials like business cards and office signs reinforce your brand. Providers like Vistaprint allow affordable business cards, door placards, and signs featuring the logo and brand colors. Business cards should always be on hand for in-person property showings and industry networking events.
Register a Domain Name
Securing a domain name creates an online brand presence. Choose a name that's easy to remember and relates to the business. Include keywords like "property" and your city to optimize search visibility. Use domain sites like Namecheap to check availability and buy affordable domains bundled with hosting plans.
Design a Website
A website serves as the digital embodiment of your brand. Build a site through user-friendly platforms like Wix. Wix provides templates, drag-and-drop editors, and integrated hosting.
For more custom site development, specialized freelancers can be hired affordably at sites like Fiverr. Websites showcase brand services and identity while allowing prospects to learn about and contact the company 24/7.
12. Join Associations and Groups
Joining relevant organizations and networks is a smart move. Property managers can connect with others in the industry. Associations, meetup groups, and online communities provide invaluable opportunities to gain insider knowledge. Here are a few ways to network.
Local Associations
Look for a local branch through the National Association of Property Managers, and similar organizations. Most associations host events, provide training resources, and offer access to forms and contacts valuable to new market entrants.
Attend Meetups
Attending local real estate meetups and trade shows fosters connections in the property management industry. Sites like Meetup make it easy to find scheduled meetups on topics like property investing, landlord tips, and regional industry trends. These in-person events provide a chance to meet fellow property managers and exchange insights.
Facebook Groups
Specialized Facebook Groups bring together property and real estate professionals digitally. For example, the Property Management Discussion and Property Management Professionals groups each have many engaged members sharing advice and job opportunities. Post questions to tap into the collective wisdom.
13. How to Market a Property Management Business
An effective marketing strategy is essential for new property management companies. Marketing generates awareness, leads, and growth. Let's take a look at some of the ways you can market your own property management company to get ahead.
Friends and Family
Leveraging one's existing network is the most accessible starting point in marketing. Offer a discount or gift card to current contacts and encourage them to provide referrals. Ask friends and relatives to hand out business cards or flyers to drum up business.
Digital Marketing
Digital marketing opens up low-cost ways to reach local prospects online. Useful tactics include:
Google Ads geotarget people searching for property management or related keywords in your city
Facebook ads promote your expertise and featured rentals to relevant demographics
Start a YouTube channel to share video tours of available units and management tips
Blog regularly with local area information and property owner advice to attract visitors
Use search engine optimization to rank highly for searches like "property management Tucson"
Retarget ads that follow site visitors across the web to keep your brand top-of-mind
Traditional Marketing
Traditional approaches like direct mail, flyers, and radio enhance visibility, though typically provide lower returns on spending. Useful traditional tactics include:
Direct mail postcards showcasing beautiful properties sent to homeowners in affluent zip codes
Door-to-door flyers sent to houses with "For Rent" signs
Local radio ads to briefly explain the benefits of your full-service management
Signs placed strategically throughout the city with your brand name and phone number
Print ads in city guides, apartment listing magazines, and real estate publications
Billboards on major highways entering your city that are geared toward property owners
Casting a wide net across both digital and traditional channels initiates brand exposure. Position your property management company as a trusted provider in the market.
14. Focus on the Customer
Customer service is a property management company's bread and butter. Customer focus helps retain and grow a loyal client base. Focus on prompt communication, transparent operations, and going the extra mile to stand apart from competitors.
Some ways to show clients you care include:
Replying to maintenance requests within one hour.
Being responsive shows tenants their concerns are heard and appreciated.
Communicating policies, rent due dates, and renewal timelines.
Sending monthly reports summarizing maintenance, occupancy, expenses, and income.
Add value to your client relationship with small gestures. Send birthday cards to residents and gift cards to owners as a thank you for their business. Offer rent discounts for referring other qualified tenants. Go above and beyond expectations to provide exemplary service.
Wrapping Up
Through this guide, we've offered insight into how to start a property management business. We covered steps such as registering your property management company EIN, forming a legal business entity, marketing, sourcing equipment, and engaging with your clients.
As you move forward as a property management company, be prepared, transparent, and engaged. Good luck!